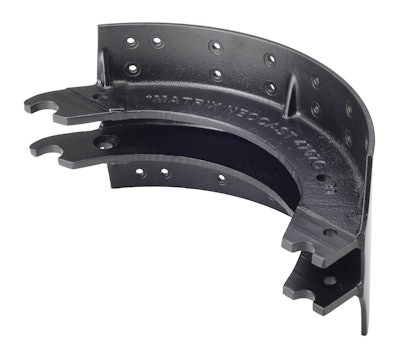 We begin our final four products in our 2017 countdown with NeoBrake Systems.
NeoBrake earns its position on this list with its March introduction of its lightweight cast iron 4707Q brake shoe.
The first lightweight cast iron shoe of its kind, NeoBrake says the 4707Q combines the traditional advantages of cast iron shoes—lasting rigidity, superior heat dissipation, sustained maximum torque, and optimal lining-to-drum contact—with an advanced, high-carbon ductile cast iron that weighs significantly less than cast shoes of old.
NeoBrake says the Matrix NeoCast 4707Q brake shoe weighs within ounces of its pressed-steel counterparts and the company says it promises to boost braking power from the moment it is installed—never letting up until the day it is retired. Its length of life depends on multiple factors, which include the experience level of the driver and application, though the company guarantees it will last longer than any pressed-steel core.
To read the original release in its entirety, please CLICK HERE.
We will continue our 2017 countdown of the most popular new products on this website tomorrow with No. 3.