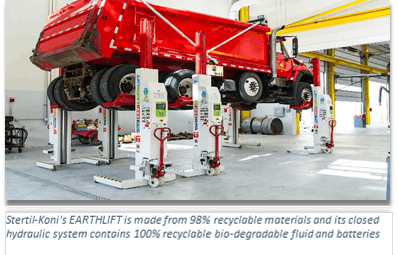 Heavy-duty vehicle lift maker Stertil-Koni says as heavy-duty trucks and buses increasingly feature cleaner-burning, more fuel-efficient engines, it believes maintenance facilities in which these vehicles are serviced and the equipment used to repair them will also be under even greater pressure to go more green in 2018.
In an industry report released Tuesday, Stertil-Koni states on the vehicle front, big changes have already taken place: semi-trucks, refuse vehicles, transit buses and other heavy-duty vehicles are now available in all-electric, fuel-cell or hybrid models. What's more, thousands of battery-powered semi-trucks have been ordered by large commercial fleets such as Wal-Mart and J.B. Hunt, and progressive manufacturers such as Volvo, BYD and Tesla are broadening their product lines, the Stertil-Koni says.
On a more granular level, prominent industrial manufacturer Cummins, traditionally a diesel-engine maker, recently debuted its electric Urban Hauler Tractor, a Class 7 semi-truck with a 44,000-lb. payload capacity. And, in the commuter coach industry, BYD has already deployed 137, 45-ft. battery-electric buses across the U.S., and has 27,000 electric buses currently in service around the world.
Stertil-Koni believes, the trend is clear, with hybrid and electric powertrain populations in commercial vehicles continuing to increase and volumes expected to grow into the millions in the next decade. What's more, the company says some believe that may be a conservative estimate.
In addition, almost all agree that the pressure to go green in commercial transportation is moving up and down the food chain – all at warp speed.
"With cleaner running commercial vehicle use on the rise, maintenance facilities across North America are also increasingly taking into consideration new ways to modernize their shops. That's why we're seeing more LEED certified service shops and other sustainable approaches, such as the use of grey water, solar panels and more efficient lighting options – all contributing to healthier and more ecologically conscious, sustainable structures and workplaces," says Dr. Jean DellAmore, president at Stertil-Koni.
For its part, DellAmore stresses that at Stertil-Koni, the company takes green initiatives very seriously.
"As part of our mission to provide the broadest range of high performance heavy-duty vehicle lifting systems for our customers, we also strive to deliver powerful options for our customers to go green," he says. "I believe that all lift companies share a responsibility to help reduce transportation costs, boost energy conservation, while simultaneously reducing the level of waste, byproducts, and pollution."