The following comes from the January 2018 issue of Truck Parts & Service. To read a digital version of the magazine, please click the image below.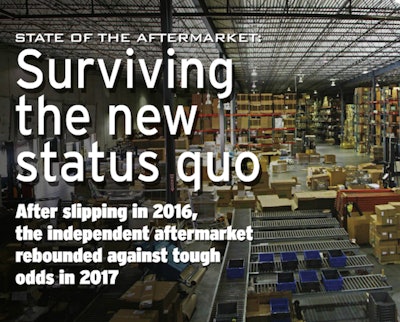 The arrow is pointing up for the medium- and heavy-duty independent aftermarket as it enters 2018. At least that's the mood of the industry heading into Heavy Duty Aftermarket Week (HDAW).
After a somewhat unexpected dip but fortunately quick recovery over the past two years, regular market disruptions and increased competition for steady sales growth have been established as status quo.
Yet the aftermarket remains resilient, and after surviving its recent tribulations, the independent channel enters 2018 leaner and more flexible to address its threats and maximize its opportunities.
The industry is again cautiously optimistic about the future, and unlike the last time sentiment was that way, market drivers this time appear to be right in line.
Recent market update
It was a little more than two years ago when 77.4 percent of responders to a Truck Parts & Service reader survey claimed their businesses had equaled or surpassed 2014 results, with nearly 72 percent of those same responders setting sales goals for at least 2 percent year-over-year growth for 2016. That mood of careful optimism was quickly shattered as the market lost its footing, slipped below projections and struggled to maintain its 2015 pace for most of 2016.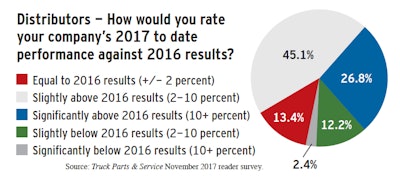 Oil field cutbacks throughout the United States and Canada took the biggest bite out of sales, but it wasn't the energy sector alone that weakened the aftermarket in 2016. A regulation push from Washington D.C. damaged business conditions for several industries reliant on trucking, while those same industries (and others) paused or slowed business planning ahead of the 2016 Presidential election.
"I think people were sitting back waiting to see what would happen," says Walt Sherbourne, vice president of market-ing at Dayton Parts. "There was a period where people didn't know what to expect."
"The economy just wasn't as buoyant under those conditions," adds Al Dragone, CEO at FleetPride.
The tide turned not long after President Trump's election victory, as businesses throughout the country began implementing strategies developed contingent on a Republican win. A slow tide of regulatory rollbacks across the board followed, as did rising global fuel prices that drove work back into North American oil fields.
Coupled with Canada's strong and swift recovery from an even weaker 2016, the entirety of the aftermarket climbed back on track last year.
MacKay & Company Vice President of Sales and Marketing John Blodgett says the aftermarket's turnaround was apparent in industry data as early as January. Referencing the company's Aftermarket Index, which tracks component supplier sales performance on a monthly basis, Blodgett says the company's early 2017 predictions of 1.6 to 1.8 percent industry growth ballooned to nearly 5.0 percent by November, with monthly readings in the independent distribution channel regularly tracking 3.5 to 4.5 percent per month.
MacKay & Company believes that's been "mostly driven by fleet utilization," Blodgett says, as truck tonnage and freight have grown throughout the year. For companies that set their annual sales goals before the turnaround began, 2017 has been a year of superlatives.
"It has far exceeded our goals that we established this time last year," HDA Truck Pride President and CEO Don Reimondo said in November. "It has been a phenomenal year. Better than we could have ever anticipated."
"Relative to 2016 in particular [2017] is shaping up to be one of the most productive and profitable years in our history," says VIPAR Heavy Duty President and CEO Chris Baer.
On the whole, Truck Parts & Service readers agree. According to a November 2017 reader survey, 50 percent of independent distributor and service providers rated their 2017 performance as at least 2 percent above pre-year projections, with 72 percent of those same readers pegging last year as superior when directly com-pared to 2016.
Even soft spots in the market — such as a wet summer impacting Southern logging and low inventory levels in areas most impacted by energy fluctuations — seem capable of righting themselves quickly. On the whole, the marketplace is stronger than it was two years ago.
"I think we're very pleased with where we are entering [2018]," says D.J. Hoffman, managing partner at S&S Truck Parts. "The last year has been steady for us and we believe it can continue."
"Everyone is openly admitting we are in a strong upswing, as we have seen through the last two quarters," says Tim Kraus, president of the Heavy Duty Manufacturers Association (HDMA). "A lot of miles are being driven by trucks right now, and that means more new vehicles and service parts."
Market purchasing shifts
At the distributor level, adapting to new technology and evolving customer preferences have driven most purchasing trends.
Components such as air disc brakes, LED lamps and automated manual transmissions — all introduced at the OEM level years ago — are now found on a significant portion of independent aftermarket-serviced equipment and have captured market share over legacy systems. First-fit gains for some manufacturers have boosted aftermarket sales as well.
"We've been fortunate with our fifth wheel business in that our OEM side has grown quite a bit, and that always drives our aftermarket business because customers want to replace like-for-like, especially with a safety product like the fifth wheel," says Carl Mesker, vice president, Aftermarket, Americas at SAF-Holland.
Additionally, advanced technology introduced for OEM and aftermarket use is dramatically altering how aftermarket suppliers and their distributor partners promote product in the marketplace.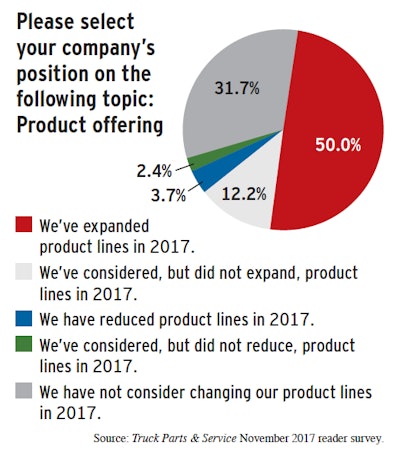 'Smart' technology is a prime example of this transition. New technology outfitted with electronic control modules and telematics capabilities require a different sales approach with end users.
Truck-Lite, which introduced its telematics-equipped Road Ready lighting system earlier this year, has supported its new product through education at the end user and distributor level, says Andrew Liuzzo, marketing communications specialist.
"It's not a typical product for our distributors, which has stimulated a different approach for us," he says. "It's important for [customers and distributors] to really understand how it works to make a purchasing decision."
Bendix has done the same with its channel partners to support its safety and collision mitigation products."It's important to keep them on the cutting edge of what they need to know regarding those parts," says Jerry Conroy, regional vice president of Aftermarket sales.
But even as sales of these advanced technology systems have prospered, the aftermarket also has experienced a boom in customer demand for "white box" or private label value line products. This development has caused consternation for independent distributors who believe value line products create an additional price point to attract cost-conscious customers, but do so at the expense of the premium brands they strive to represent.
"A brand is something a customer wants. It's something they search for and trust," says John Bzeta, president at Fleet Brake. "Anything can be in a white box. And it can be replaced in an instant."
Distributors also are struggling with the marketing and promotion of private label products. For a channel that strives to be subject matter experts, independent distributors are uncomfortable selling products that lack the sales and training support of premium brands.
But they are indeed selling them. As the medium- and heavy-duty truck population ages, more and more customers are turning to value lines to keep their oldest assets on the road. Both independent distributors and their premium suppliers have entered the private label marketplace in an effort to maintain their customer base against competition from dealer white box lines and offshore product entering the marketplace.
"If you're a supplier and you see customers turning to value lines, I understand why you may feel the need to follow them. I can't fault [manufacturers] for that," says Reimondo. "But I think one value the independent distributor brings to the marketplace is education and expertise, and you lose that with value lines."
Suppliers acknowledge their predicament. Many have introduced branded value lines to support their independent distribution channel partners.
"We have started offering an alternative to our premium brand," says Corneliu Bogdan, sales manager, heavy-duty aftermarket and OES at Firestone Industrial Products. "We understand and appreciate our distributors have the intentions to be a premium house, but the dynamic of the market is changing and we need to have a value line."
Accuride's 2017 acquisition of KIC was made for a similar reason, says President and CEO Rick Dauch, and now allows Accuride to compete at all price points with a full breadth of branded products.
"I think as suppliers we're caught in the middle a bit as to how to proceed," he says.
SKF is another company that now offers product at multiple price points for its most popular lines. Scott Simmonds, the company's vice president of heavy-duty sales, says SKF's expanded portfolio ensures the independent channel can remain competitive with all customers.
"We're trying to make sure our distributor has all of the different options we can possibly give them to earn that business," he says.
Independent channel challenges
The independent distribution channel is facing challenges from other areas, too.
Large retail wholesale businesses and automotive distributors continue to add SKUs for accessories, tools and small commodity items, while online Amazon, eBay and other retailers grow their annual truck part sales at an exponential rate.
Bill Wade says this "breakdown of the traditional channels of distribution" is only the beginning of what's to come for the aftermarket. As customers become more acclimated searching for and purchasing products online Wade says their preference to do so will only increase, as will their expectations that brick-and-mortar distributor partners meet them in the virtual world.
"There are plenty of people out there who know how to put a part in a box and ship it," he says. "If your only role is to sit there with inventory on your shelf and wait for a call to deliver it, you're finished."
Aftermarket suppliers aren't nearly as pessimistic about conventional distribution — in person product expertise remains a key aspect of their sales structure — but do believe online sales in the heavy-duty aftermarket are here to stay. For their part, many suppliers are developing online ordering systems and expansive product reference guides to better support their distributors on the front line.
Tom Ondrejcak says S&S Truck Parts built its new ordering website, which debuted at HDAW last year, specifically with its distributors' employees in mind.
"We want our website to be an easy information source for our customers. To be a place where when they need information they can go there and find it," says Ondrejcak, the company's director of sales.
Meritor had a similar focus in launching MeritorPartsXpress in the spring, and like S&S has followed by training its distributors to use the tool.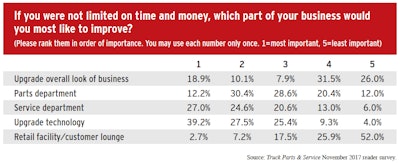 "We want to make it as easy as possible for our customers to do business with Meritor," says Brett Penzkofer, Meritor's vice president, Aftermarket, North America.
Ease of use tools are increasingly valuable in an industry where technology is craved but rarely acquired. According to Truck Parts & Service's November reader survey, nearly 40 percent of independent aftermarket businesses say if they were not limited by time or money the first area of their business they would improve is their equipment and technology. That number was followed by their service department (27 percent) and the overall appearance of their facilities (18.9 percent).
Consolidated Truck Parts specifically targeted its service technology when it decided to invest in upgrading its technology last year. Consolidated's service operation has been its strongest division for many years, and CEO Rudy Niswanger says the company has committed to updating it as much as possible to ensure it remains a premium provider in its market area.
"These trucks are changing so fast. You can read something is coming and then you blink and it's upon you," he says. "We want our customers to view us as experts, so we have to keep up with what is out there and be up to date as best we can."
Independent channel opportunities
Niswanger's point on expertise is an important one because despite the above concerns, opportunities still remain for independent aftermarket businesses to grow in this industry. A strong majority of suppliers, distributors and service providers expect the market to expand this year, and that means more business available for everyone.
Positioning one's self as a subject matter expert is one sure fire way to earn customer respect, loyalty and sales.
"We believe our ability to provide value-added services gives us a leg up compared to some of our competitors," says David Segal, president at Sanel Auto Parts. "We're not the lowest price place where a customer can get a part, but when they come to us we provide peace of mind."
"Our business model is built around providing a lot of service, having inventory in stock and being able to provide a lot of technical expertise for our customers," adds Bruce Sommerville, vice president and COO at Drive Train Industries. "It's not conducive to us being a low-cost parts provider in the marketplace, nor do we want to be."
Many suppliers appreciate distributors making that commitment, and continue to enhance their product literature and training libraries to assist distributors hungry for product knowledge.
"We are working to adjust some of our programs based on customer input," says Tim Bauer, vice president of aftermarket at Eaton. "We want to build a foundation for lasting win-win relationships."
VIPAR Heavy Duty is dipping its toe into this area as well, says Baer. "What we want to do is not create a product so much as become a resource center for them."
The channel itself is another strength. Many independents have a leg up on their dealer competitors in regard to relationships with their customers, an edge the independent channel doesn't plan to relinquish.
"I think the relationship with our customers is unique," says John Vander Haag, president at Vander Haag's. "We work hard to get to know them and understand their businesses and their markets. I don't think dealers always do that as well."
"The independent aftermarket has the ability to react faster to customer needs, and that's beneficial to all of us," adds Peter Cirulis, vice president, Commercial Vehicle Aftermarket, Customer Experience, Strategy and Product Planning at Dana.
That relationship focus also helps when recruiting and retaining talent. Employee loyalty goes both ways.
"We've had situations where one of our guys will leave for a dealership and we've found they'll get to that dealership and then they are just a number. The team atmosphere isn't the same; then we'll usually get them back," says Todd Pate, vice president at Covington Heavy Duty.
Expectations for the future
Turning their eyes to 2018 and beyond, independent aftermarket distributors and their suppliers believe that customer-centric approach, coupled with a healthy trucking industry, are reasons for optimism.
Niswanger, whose business serves multiple energy sectors, says he expects a resurgent energy market to help bolster his already bullish outlook for 2018.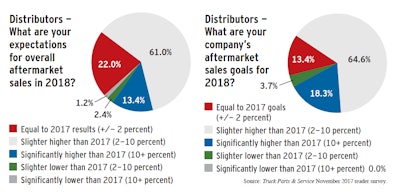 "We've expanded our footprint, increased our capabilities and product lines. I think that's where a lot of our growth is going to come from," he says.
Dauch is equally optimistic. The new chairman of the HDMA's Heavy Duty Business Forum, Dauch cites truck builds, utilization and the electronic logging device (ELD) mandate as potential sales drivers within the market, as well as energy business, tax changes and infrastructure investments as external positives for trucking.
Bogdan agrees, and also references energy and infrastructure as reasons for the arrow to point up in 2018. "I think we could see the economy take off," Dauch says. "We are gearing up for a robust 2018."
Truck Parts & Service readers agree. An incredible 74.4 percent of distributor responders to November's survey predict the aftermarket will grow by at least 2 percent this year, and of those who didn't, 22 percent of the remaining 25.6 percent see the market as flat.
Supplier responses were nearly identical, with 69.7 percent expecting at least 2 percent growth and 72.7 percent setting growth goals of 2 percent or higher.
Mesker says SAF-Holland uses a detailed formula that includes economic data, MacKay & Company forecasts, Class 8 truck build rates and corporate sales data to make predictions. Like other aftermarket businesses, SAF-Holland enters the new year confident.
"For 2018 we think [our aftermarket business] is going to continue to grow, likely ahead of 2017 pace, and 2017 was a really good year for us," Mesker says.
Even before last year closed, Sherbourne was excited about the potential for the aftermarket this year.
"I'm always looking forward. I can't change the past but I can impact the future," he said in November. "I think we've done a lot of things very well in 2017 and I think we can do even more next year."