The following comes from the January 2018 issue of Truck Parts & Service. To read a digital version of the magazine, please CLICK HERE. 
The wholesale independent aftermarket sells a lot of commodity items. Bob Greenwood says service is not the same kind of business.
Unlike the identical brake drums and widgets found in thousands of distributor warehouses across North America, every service center is unique. Succeeding in the independent service channel today takes training, tooling, experience and expertise. It's a significant commitment. For service providers dedicated to their business and customers, Greenwood, president and CEO at Automotive Aftermarket E-Learning Centre, says that commitment isn't something to take lightly.
In an industry where labor rates have so long been determined by competition, Greenwood says it's time for service centers to start looking internally. Pricing in the independent service channel isn't about where a service center falls in relation to its competitors, it's about how much value that service provider brings to the marketplace.
"This is not a pricing game or a commodity game," he says. "This is a true profession and the key to success isn't sales, it's net profit."
Profit comes from efficiency. After years chasing volume, Greenwood says prosperous service operations in the future will thrive by maximizing shop performance. The goal shouldn't be to rack up customers it should be to rack up billable hours. A line around the corner is great publicity, but it needs to be supported by a proficient operation to also be great for the bottom line.
Greenwood says a service provider with a lower than market average labor rate and talented stable of technicians will draw in a lot of customers. But if those technicians are slow in completing their work for any reason — inadequate tooling, incomplete diagnostic testing, meticulous techs — the service center will still struggle to make a profit because the facility is inefficient.
"If you're only operating at 60 percent efficiency, you're really only earning 60 percent of your per hour rate," Greenwood says. "You have to know what your true per hour rate is" before resetting a labor price.
Once that percentage is established Greenwood says service providers should begin evaluating methods for improvement. The potential hindrances to efficiency mentioned above are commonly found in the medium- and heavy-duty service channel, and when corrected, can dramatically improve shop throughput.
Greenwood admits it's a difficult task.
"There is no silver bullet to fix everything immediately. It can easily be a two-year period because you are talking about changing a culture," he says. "The business model a lot of [service providers] were raised on is broken and they can't keep doing things that way and expect it to work."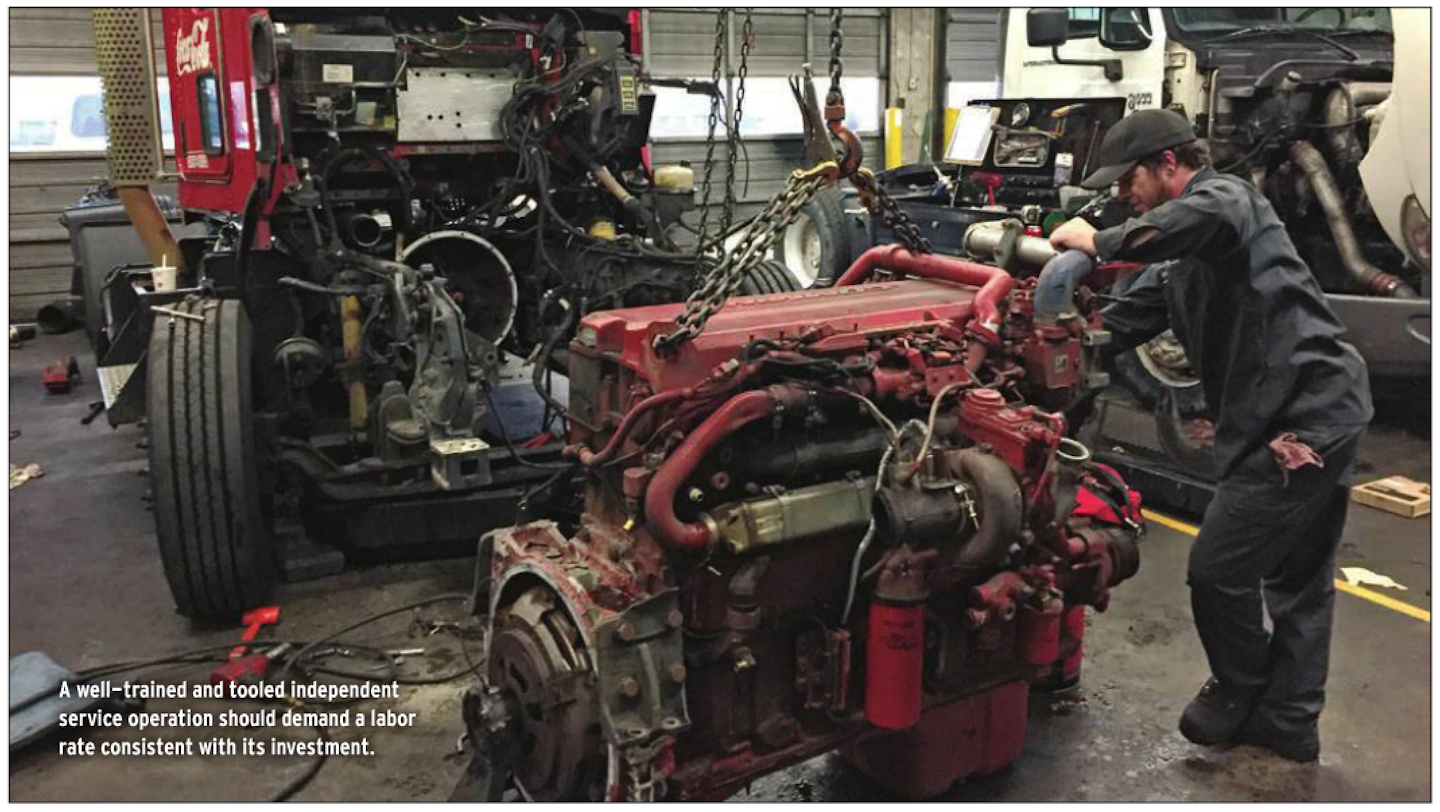 He stresses diagnostics, specifically, as an area needing an overhaul. Advertising a full diagnostic test in one hour or less does a service center no favors because today's medium- and heavy-duty equipment is too advanced to be fully inspected in that time. Yes, a customer wants their asset back quickly, but if asked, most would prefer an extra few hours in a bay at the beginning of a repair than a day addressing previously undiscovered issues at the end.
Additionally, the fix doesn't just come in billing for two (or more) hours of diagnostic testing instead of one. It's also in how a service center approaches every new repair.
"You are not just selling a job," Greenwood says. "You are being hired to provide safety and reliability for your customer and it is your professional responsibility to make sure that you do that."
Providing that right equipment and training for technicians is another driver of service efficiency and profit that can be mishandled in the independent service channel. Issues normally arise in how these resources are valued.
Most equipment problems are cost based. Greenwood says service centers that fail to update diagnostic or service tools due to upfront expense are ultimately weakening their ability to efficiently complete repairs and help their customers. The same is true regarding training. Technicians cannot be expected to improve departmental efficiency without the most updated training possible on the work they are expected to complete.
Other efficiency drivers, such as parts procurement and customer communication and repair authorization strategies, also should be evaluated and optimized before an independent service provider begins the math on a new labor rate.
Once a service center is running at or near peak efficiency the labor rate calculation is straightforward: cost of operation per billable hour plus profit margin equals hourly labor rate.
Daunting as it sounds, Greenwood says when compared to the status quo, the decision to change should be a no-brainer.
"The amount of money these businesses are leaving on the table in net profit is incomprehensible," he says. "For a 10-bay shop, it could be between $200,000 and $350,000 per year."
To return to January's Service Bay story, please CLICK HERE.