The following comes from the January 2018 issue of Truck Parts & Service. To read a digital version of the magazine, please click the image below.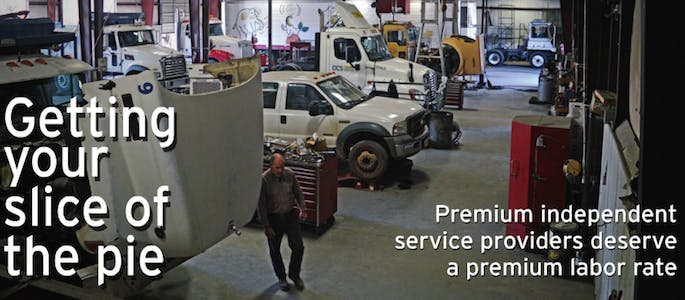 The independent service channel has a love-hate relationship with pricing.
For most independent service providers, an attractive labor rate can be a company's best marketing tool. But due to a pricing strategy where most businesses set their rates based on competition and not competency, some aftermarket service providers also may find themselves trapped with labor rates that undervalue their services and capabilities in the marketplace.
Finding the right labor rate for an independent service business can be done with a thorough evaluation of one's operation and service efficiency, but it's arduous. Sticking with the status quo leaves money on the table to keep trucks in the bay.
To better understand how harmful competition-based pricing can be, it helps to understand its weaknesses.
Every business is different
The most obvious negative to pricing against competitors is setting a labor rate that doesn't reflect the quality of one's work.
This is most common in markets where customers have multiple service centers to choose from for any one repair. A new service provider undercuts the market with an unreasonable rate; customers flood to that facility to try the discount garage; and neighboring facilities, spooked by the sudden and likely short-term market shift, drop their rates in turn to earn back their customers.
The long-term damage for established service centers in that scenario isn't due to the immediate down flux in customers but the decision to chase those customers with a lower rate. A service provider should only lower price when it has in-creased operational effectiveness (and is thus able to operate with lower costs), or reduced its number of services offered. Doing so to chase customers only further weakens margins in an already competitive landscape.
It's also important to remember that while there is a subset of service customers who will always chase price, many end users value quality of service and uptime above cost when making a service decision.
"The most important thing is that the vehicle be repaired properly the first time with no come backs. Most customers do not complain about the price if the repair is done properly by a qualified repair shop," says Jim Pascale, president at Pascale Service Corporation.
Regarding low-price competitors, Pascale adds, "They are perceived as being cheaper but in the long run it costs the customer more in downtime or not having the vehicle repaired properly."
ROI opportunities are lessened
Service providers also undervalue their work when they fail to raise rates. A service provider can avoid falling victim to the scenario above and still be under-charging due to an outdated labor rate.
Prices don't need to go up every six months, but a service provider who commits to purchasing new diagnostic tools and updated service equipment while providing regular training for their technicians has a significantly larger investment in their operation than a competitor who does nothing. They owe it to themselves for their labor rate to reflect that.
Bobby Willingham, president at Davenport & Willingham, says his business evaluates its investment in its shop on an annual basis. The company's labor rate doesn't go up annually, but Willing-ham says he doesn't shy away from price increases when necessary.
As the 2014 HDA Truck Pride Truck Service Expert of the Year, Davenport & Willingham views itself as a premium service provider in its region, and Willingham says the company's rate relative to its independent competitors reflects that.
"We charge more than anybody else because we have invested in this place and we believe we are worth it," he says. That belief has been confirmed by a large, loyal customer base that continues returning to Davenport & Willingham.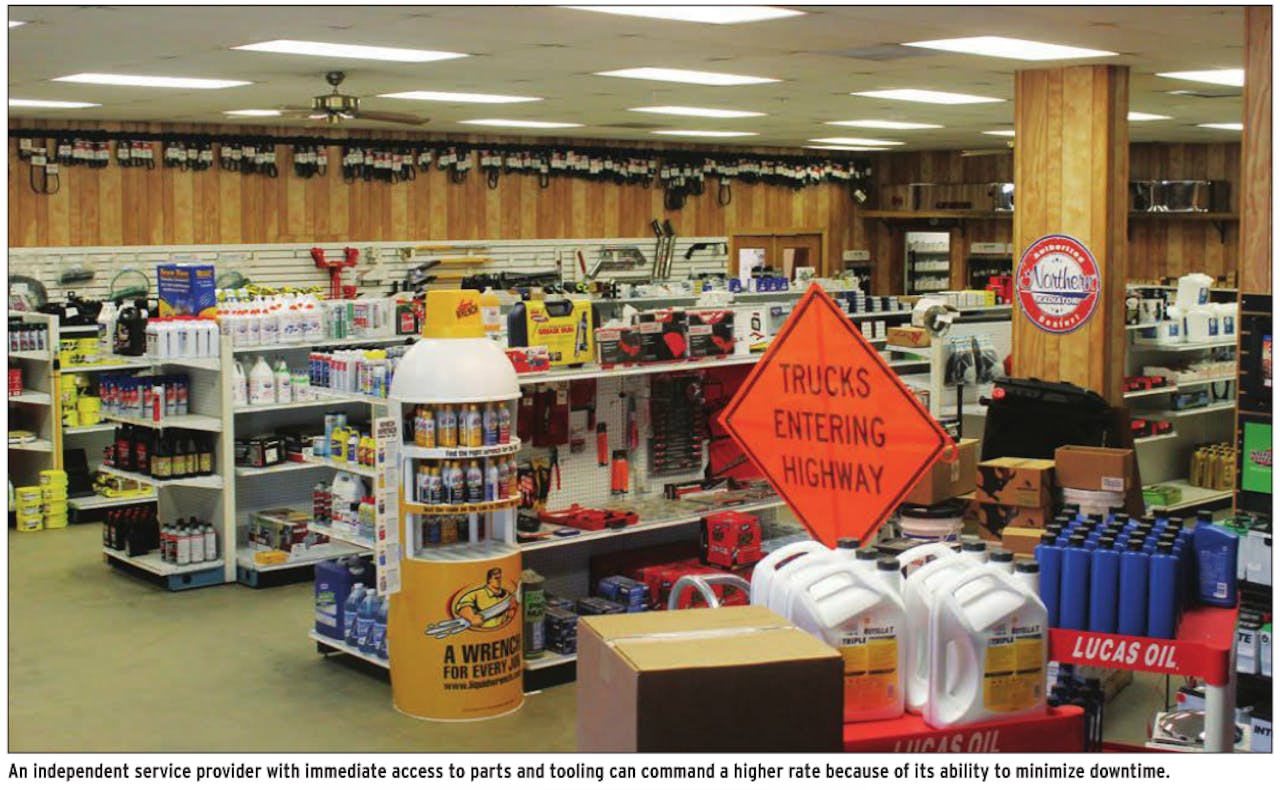 "To be honest with you, in the 28 years that we've been here, I've never had anybody say anything to me because we did increase our rate," Willingham says.
Loyalty doesn't equal security
Variable pricing is another misstep commonly found in the independent service channel. Repair facilities earn contracts with a regional fleet or municipality and are then hesitant to increase their rates on those accounts when updating pricing because of the fear they will lose the volume of work those accounts provide.
Matt Goodding, branch manager at Sadler Power Train, says he sees this with some competitors in his marketplace. The businesses advertise specific prices for off-the-street business, but actually have different rates for established customers. This strategy is harmful because it turns loyal accounts into less profitable customers. The financial investment a service provider makes to its operation doesn't vary across repairs, so why should pricing?
"We don't ever adjust our pricing like that," Goodding says. "We decide what rate we're going to have and that's what we charge for everything."
As a group, he says Sadler Power Train's customers are "very accepting" of the standardized pricing structure. Customers are aware of the financial commitment Sadler Power Train has made to serve them and know rates must be established accordingly.
"They understand that you're going to have an increase here and there," Goodding says. "We make sure we always provide quality work for a reasonable rate."
Channel discrepancies
Then there's dealers. The independent service channel has typically positioned its labor rates below dealer competitors. The general reasons for this — dealers provide specific service and have exclusive access to some tooling and training — are sound, but in individual instances pricing flaws can appear.
The major issue is informational access. The dealer channel receives OEM-provided technical training and diagnostic equipment independent service centers cannot acquire. Independent service centers also lack background knowledge on dealer efficiency rates, and the internal calculations dealers make when setting their labor rate.
Without revelations into those areas, any independent pricing decision based on a dealer's business becomes nothing more than an uneducated guess. Bruce Greer is in a unique position regarding his knowledge of the independent versus dealer pricing structure. As general manager of Golden State Peterbilt and Kroeger Equipment & Supply (where he is also president), Greer is responsible for setting labor rates for three dealerships and an independent service facility.
Greer says both service businesses receive as much training as possible for the work they offer. The dealer locations do have a higher labor rate, but Greer says the elevated price reflects a more comprehensive service offering, not any technical superiority.
"I think the independent service channel sometimes views itself as second-tier suppliers and that's not the case," he says. "Once you get away from the warranty work and the engines, emission systems and other service only the dealers are doing, the aftermarket service provider is a tier-one supplier."
That's something Greer makes sure to promote with his customer base, and says other independents should do the same. "The independent [service provider] doesn't do enough to market themselves as a premium provider for the repairs they can be a premium provider for," he says.