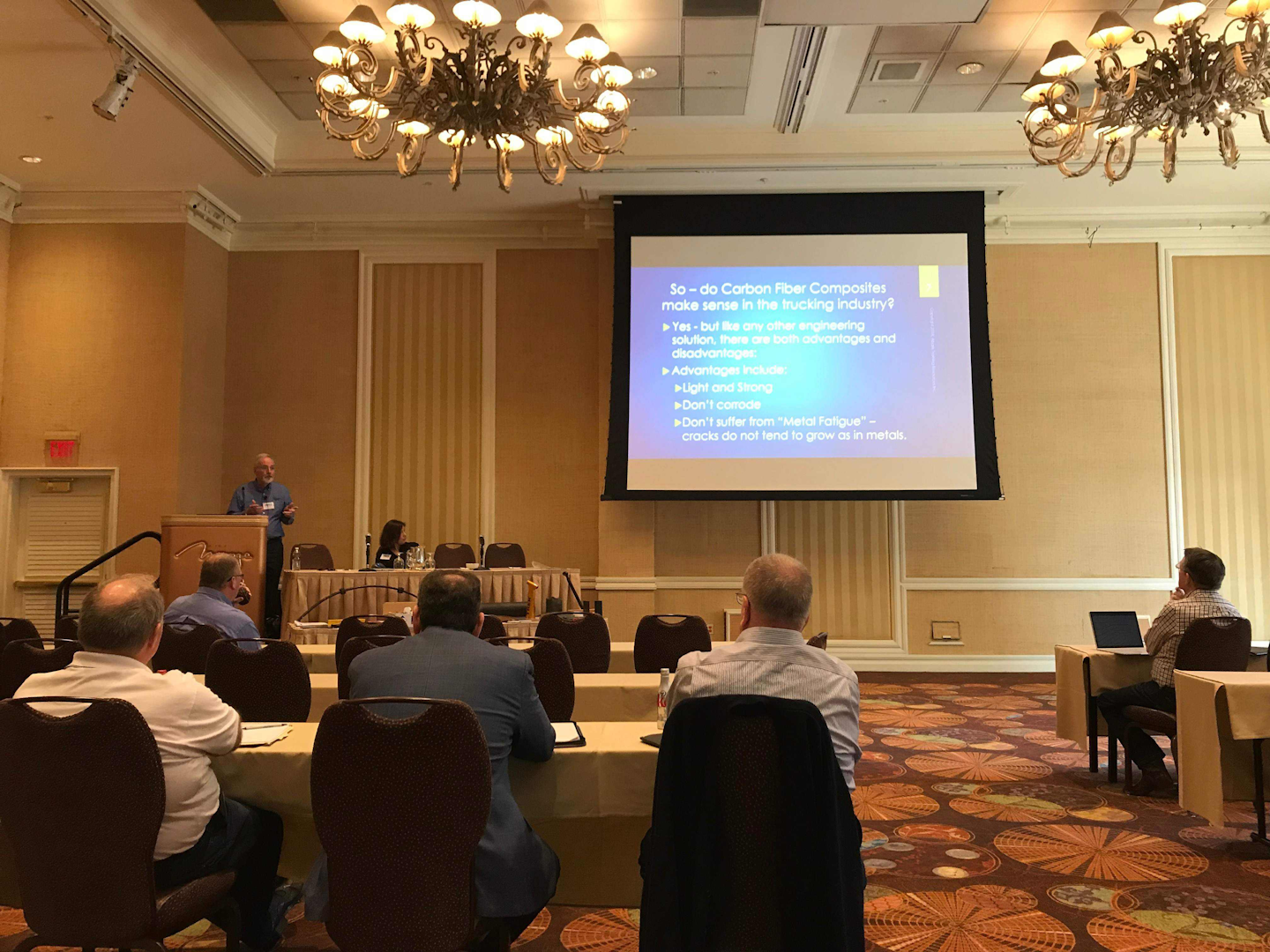 Composite-built vehicle components took center stage Sunday at Service Opportunities Learning Days (SOLD) in Las Vegas ahead of Heavy Duty Aftermarket Week (HDAW) 2018.
Featuring presentations by Composite World Editor Ginger Gardiner and service experts Michael Hoke and John Spoto, Sunday's session was an in-depth, illuminating look into the world of composite parts, answering such questions as how the products are manufactured, why they are gaining favor in the trucking industry and how service providers (like those in attendance) can train technicians and build standard procedures to best service them in their businesses.
Kicking off Sunday's presentation, Gardiner says while composites may seem new, they actually have been used in building and manufacturing for decades and are much more common in everyday life than most people may believe. She throws out concrete and wood as two of the world's most common — and in the case of wood, likely unknown — composites. Technically, she says the composite industry defines its products as when two or more materials are combined together to strengthen the performance of the individual materials.
In the aerospace, automotive and now heavy-duty industries, Gardiner says most composite products are fiber-reinforced in nature and are developed by mixing fibers with resin and then forming them into the shape of a product. For commercial truck OEMs and component suppliers, she says the key selling point for composites are weight. Composites not only match the strength and stiffness of metals but can also lower product weights by as much as 75 percent for some components, Gardiner says.
"The weight buys its way in" to the market, she says.
In the North American trucking market, Gardiner says the Department of Energy SuperTruck program has been among the industry's biggest drivers toward composite parts. She says Navistar reduced the weight of its SuperTruck prototype by nearly two tons thanks in some part to composite product adoption.
And with the performance of these composites on the rise (and prices falling), Gardiner says, "I can see how composites can be used on these kind of [heavy-duty] vehicles."
Once they arrive, Hoke says his company, Abaris Training Resources, will be ready. Founded in 1983, Abaris is one of the world's largest training centers for composite material maintenance. The company has U.S. locations in Nevada and Georgia and global facilities in the Netherlands and Brazil. It offers 21 composite service training courses — 15 of which for technicians.
When it comes to servicing vehicle composites, Hoke says many manufacturers prefer to replace parts in sections rather than re-shape individual components. In rare cases where damage is small enough to be repaired, he says Abaris uses detailed decision trees to determine how a repair should be completed. Bonding new composite materials to an existing part or panel also requires specific fibers, epoxies and resins.
"It's not the kind of stuff you're getting at Home Depot," he says.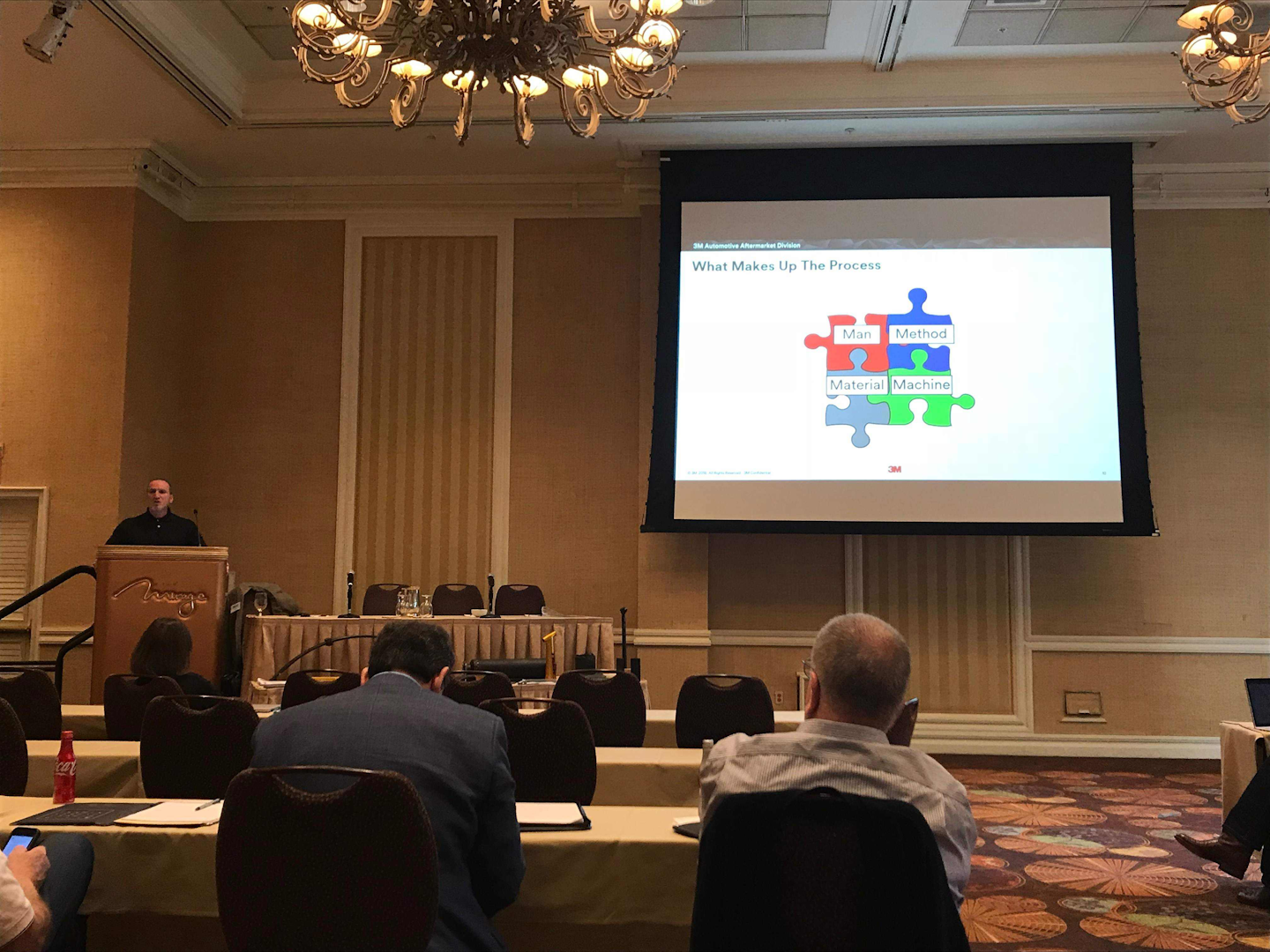 For aftermarket service providers considering offering these repairs, Spoto says standard operating procedures are a must. Composite repair is new and different. It's not something to approach unprepared.
In his role as commercial heavy fleet manager at 3M, Spoto spends most of his time developing, improving and perfecting collision repair processes for 3M. In his work, he defines a process as a sequence of interdependent and link procedures which, at any stage, consume one more resources (employee, time, energy, machines, materials) to convert inputs (labor, material, parts, etc.) into outputs.
Spoto says the benefits of processes are voluminous; it's more than just standardized the literal steps in a repair. Process also standardizes the act of defining a standard and being sure everyone understands and adheres to it, he says. It standardizes the quality, performance and timeline for work, and protects businesses against callbacks and other potential future issues.
"Process embraces a culture," he says. "It creates decision making, encourages new ideas, develops incentives."
Spoto says 3M regularly goes direct to truck OEMs to request guidance when writing composite-related repair procedures. He says manufacturer information is incredibly important for steps within an actual repair because the OEM best understands each composite and how it was produced. As for other steps in a repair — tool and product acquisition, communication with vehicle owner, etc. — Spoto says 3M address that, too, but acknowledges any service center has the ability to enhance and optimize their own standard operating procedures.
And the value of that, he says, is evident. A process "helps you get the vehicle out the door in the shortest amount of time."