In an industry so reliant on relationships, both suppliers and distributors believe their bond improved in 2017.
According to Truck Parts & Service's November 2017 reader survey, 95 percent of suppliers believe their relationships with distributor partners were stable or strengthened during the last calendar year. Distributors were equally positive, with 37.8 percent claiming to have stronger relationships and another 56.1 percent claiming their relationships were steady.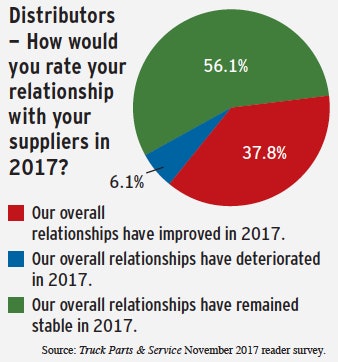 On the manufacturing side, many suppliers have turned to the Internet to create resources for the distribution channel.
Dana was one of those suppliers, debuting an e-commerce platform at Heavy Duty Aftermarket Week (HDAW) and then a historical literature library of its entire product category later in the year.
The latter was something Dana previously provided as a print guide, but shifted to an online platform for functionality and ease of access, says Peter Cirulis, vice president, Commercial Vehicle Aftermarket, Customer Experience, Strategy and Product Planning.
"Our goal was to put our knowledge out there and make it readily available," he says.
Strengthening downstream relationships with front-line distribution employees and end users also allowed suppliers to drive more business through the distribution channel in 2017.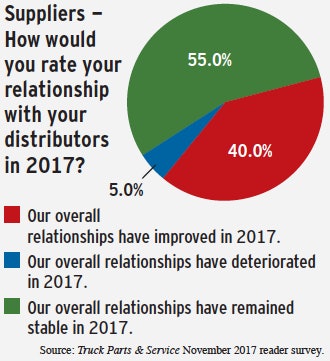 "I think we've maintained and improved our relationships by going wider," says Phillips Industries President Rob Phillips. "We've gotten to know a lot of the people at the distributor level and have worked to teach them about our products."
Distributors relish that in-person contact, too. Suppliers reducing their sales forces or turning to alternative representation is one of the channel's biggest complaints for its supplier partners.
"We know rep agencies are a necessary evil, but a large percentage of them are not very helpful," says Jim Burke, president at Drive Train Industries. "They aren't able to provide the education and technical support like the manufacturers."
To return to January's cover story, please CLICK HERE.