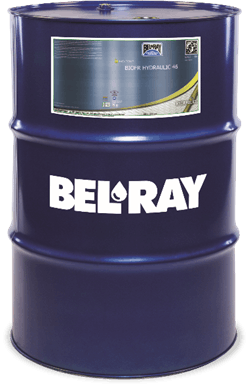 Bel-Ray Company has released its No-Tox BioFR Hydraulic 46, a non-toxic fire-resistant hydraulic fluid.
Bel-Ray says this new industrial lubricant is designed for severe operating conditions in hydraulic applications where petroleum and other synthetic hydraulic fluids create a potentially unsafe environment and where a fire hazard exists.
Factory Mutual tested and certified, the No-Tox BioFR Hydraulic 46 is formulated to work in high-pressure hydraulic systems of up to 7500 PSI, and is non-toxic for use where incidental food contact may occur. Bel-Ray says the fluid's naturally high viscosity index and shear stability ensures that the optimum viscosity is maintained across a wide range of temperatures from start up to optimal operating range.
Bel-Ray says it is designed for superior system reliability, reducing varnish and sludge formation in valves, pipes and reservoirs. No-Tox BioFR Hydraulic 46 is also a certified HFD-U fire resistant fluid. Additionally No-Tox BioFR Hydraulic 46 is biodegradable, which reduces the environmental impact, the company says.
"We are extremely proud to announce the release of No-Tox BioFR Hydraulic 46," says Deane Pitmon, regional industrial sales manager at Bel-Ray. "This flame resistant nontoxic hydraulic fluid can be used in a wide range of applications while providing quality that has become synonymous with the Bel-Ray brand."