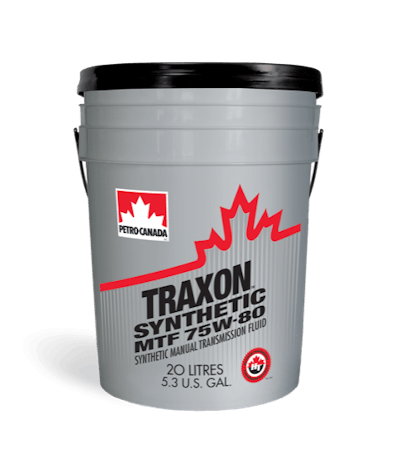 Petro-Canada Lubricants has announced its TRAXON gear oil line has now expanded to include TRAXON Synthetic MTF 75W-80.
Petro-Canada says the premium performance commercial vehicle manual transmission fluid is formulated to provide extended drain capability (up to 400,000 km or 250,000 miles), deliver all-weather protection, and reduce maintenance costs. The new product is recommended for extended drain service in heavy-duty (Class 6-8) manual transmissions and has been fully approved by Volvo and Mack for use in their synchronized automated manual transmission applications (Volvo I-Shift and Mack mDRIVE), according to the company.
"We are thrilled to enhance the TRAXON product line. We are committed to developing top-tier products that deliver operational excellence and cost-saving results for our customers," says Barnaby Ngai, category portfolio manager, Heavy Duty Engine and Driveline Oils at Petro-Canada Lubricants. "The unique fuel-efficient formulation is an advanced product to meet the future demands of new hardware, and is testament to raising the bar on our heavy duty driveline offering."
Petro-Canada says the manual transmission fluid is intended for manual gear boxes of the G7/8,S,SR,SPO,AT and VT series from Volvo GTT up to a 400,000 km (250,000 miles) drain interval. It is also suitable for use in many ZF transmission models including those fitted with ZF-Intarders (models include ASTronic, TCTronic, Ecolite, Ecomid, and Ecospilt as well as many other OEMs).
TRAXON Synthetic MTF 75W-80 exceeds key performance parameters set by Volvo's I-Shift specification (STD 1273.07-97307). It has been specifically formulated to limit drag losses and reduce fuel consumption versus conventional manual transmission fluid and API GL-4 axle SAE 80W-90 / 75W-90 oils or higher viscosity grades. It also delivers excellent oxidation stability to resist deposits and sludge formation, which the company says reduces issues with transmission shifting, system efficiency and equipment functionality.