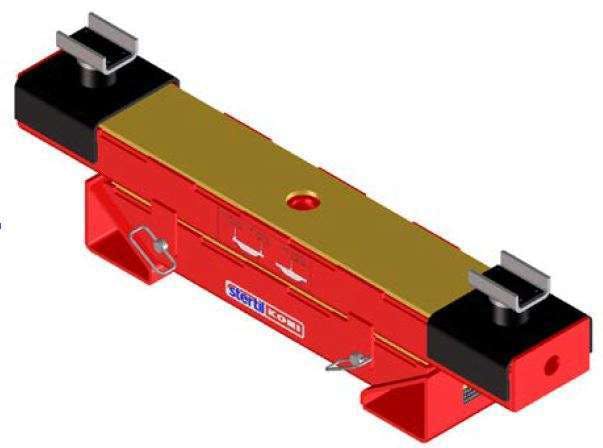 Stertil-Koni introduces a new series of universal multipurpose fork adapters engineered to increase the versatility, utility and performance of the company's very popular mobile column lifts.
According to Stertil-Koni, these multipurpose adapters allow users to achieve front and rear lifting with just two mobile columns. This allows customers to benefit from a wheels-free approach that uses the vehicle frame as the lifting point, thereby giving the busy shop technician full access to the wheel area. In practice, the adapter attaches to the mobile column lift forks allowing the vehicle to be lifted by its frame rather than its wheels. What's more, Stertil-Koni says multipurpose adapters used in conjunction with mobile column lifts can handle everything from heavy duty utility trucks to farm tractors and even cab and chassis vehicles.
"Multipurpose adapters broaden the utility of our very popular mobile column lifts. This versatility also allows for handling and servicing of a broad range of vehicles, including those that have low ground clearance and varying configurations," says Peter Bowers, technical sales manager for Stertil-Koni.
To fully address the demands of today's busy workshops, Stertil-Koni has manufactured five different multipurpose adapters. Of these, the two most popular multipurpose fork adapters are the 950 and 970 models. The company says the popularity of the 950 can be attributed to the fact that the adapter works well with a broad range of heavy-duty vehicles. This new adapter is ALI certified, demonstrating full compliance with recognized, applicable standards, and is rated up to 22,000 lb., per adapter. For use by a completely different audience, the company adds the 970 model is expressly designed to be used when lifting light- to medium-duty trucks. This version offers extremely low pick-up height and has a lifting capacity up to 5,500 lb. per adapter.
"Speed, efficiency, and safety are essential to achieving top performance in today's heavy duty vehicle maintenance shops. As the name 'multipurpose' implies, these adapters have become an absolutely essential piece of equipment for technicians tasked with keeping a broad range of different vehicles well serviced and up and running," says Dr. Jean DellAmore, president of Stertil-Koni.