Note: This is the third of three articles covering the heavy-duty aftermarket changes between now and 2022. There is no attempt to factor in macro changes in the overall economy. Rather, this series covers 1) Pure vehicle technology, 2) Data science apps likely to make a substantive heavy-duty aftermarket difference and 3) Structural changes in heavy-duty parts and service distribution.
By Bill Wade, Wade & Partners
If you came across the term entropy in school, it was probably one of the wonders introduced in physics class. Entropy is a scientific concept that explains what happens to dissipating energy as it powers your flashlight. It describes the tendency of the universe to 'progress' into disorder.
In a business context, recognizing entropy can guide the application of additional resources that would make business more efficient. Please Note: There are still external inefficiencies that you can do nothing about.
Certain very mature industries may face what I call 'structural entropy,' where the structure of the business — or industry tradition — becomes less relevant over time. Useful order will always decay into non-useful disorder. This is inevitable and applies to every system in business, including processes, resources, facilities, structures and even the basic industry models.
Everything decays. Technology goes out of date, service capability fades, customers leave or die. This is inevitable and irreversible. At the same time, although entropy is a fact of life, there may be an 'escape clause.' A business (its relationships, design, controls, structure, processes, etc.) can be bent and twisted in very interesting ways to instill new energy to counter the effects of entropy. After all, the cycle of industries, products and companies is no secret:
Growth
Maturation
Entropy
Destruction
Western societies have experienced the same patterns for centuries — they are as natural and necessary as seasons. Fewer than 10 percent of Fortune 500 companies in 1955 still exist today.
An unfortunate interim step in these stages is competitive idiocy, the destructive attempts of the stuck-in-the-'good old boy' mold to survive. When cutting prices doesn't work, cut them further. When new competitive solutions appear, ignore them. After all, 'they aren't in our business.' These Luddites will fail but, like a sinking ship, may take others down into the water with them.
This article about the heavy-duty parts and service industry is an attempt to identify areas within the heavy-duty business that are most likely to challenge the ravages of entropy in the next 1700 days. Understand the danger and steer clear — it always seems so easy. It is not. Ever. But pay special attention to these trends:
Consolidation. The Single Most Defining Trend
OEMs, parts suppliers, distributors, service providers, OEM dealers and dealer groups, e-portals, new channels or even (GASP) fleet buying groups. The most likely outcome? Completely new rules.
Possibilities: Volkswagen acquires Navistar, Chinese giant Geely acquires Volvo and takes huge stake in Daimler, VIPAR Heavy Duty and HDA Truck Pride merge, FleetPride and TruckPro get together with GPC, Rush combines with MHC. Any of these would make today's heavy-duty business unrecognizable. Who would be setting the new norms then?
Driven to consolidation by shifting margins and technician shortages, more competitors recognize the truth of 'Service Over Iron.' Service is also the last probable target of Amazon.
The foundational rule of channel evolution has not changed. Limiting pathways to the customer is competitively disadvantageous. The challenge increasingly requires a wider reach, a broader offering and more sophisticated IT capabilities.
When you consider the impacts of e-commerce on customer behavior, expectations, and evolving requirements, companies that fail to incorporate "direct" thinking across all their channels will fail.
Not likely to change: End users want to do business with companies that are easiest to work with, enabling research, price comparisons, shopping and shipping, proactive communication, returns, etc. — all insuring limited or no barriers for the customer. In this regard, watch the health care business, including vertical consolidation (Carl Icahn is a believer in this).
At a presentation at CFS in Hawaii in 1997, I outlined the four stages of industry evolution. The next year, FleetPride was formed. HDA Truck Pride and VIPAR Heavy Duty stepped it up and NAPA realized that trucks need parts too. Speed is everything, and managers' integration competence is paramount.
Companies that evaluate each strategic and operational move according to how it will advance them up through the stages — that capture critical ground early and move up the curve the fastest — will be the most successful. Slower firms eventually become acquisition targets and will likely disappear. Most companies simply won't survive to the endgame by trying to stay out of the contest, or worse, by ignoring it.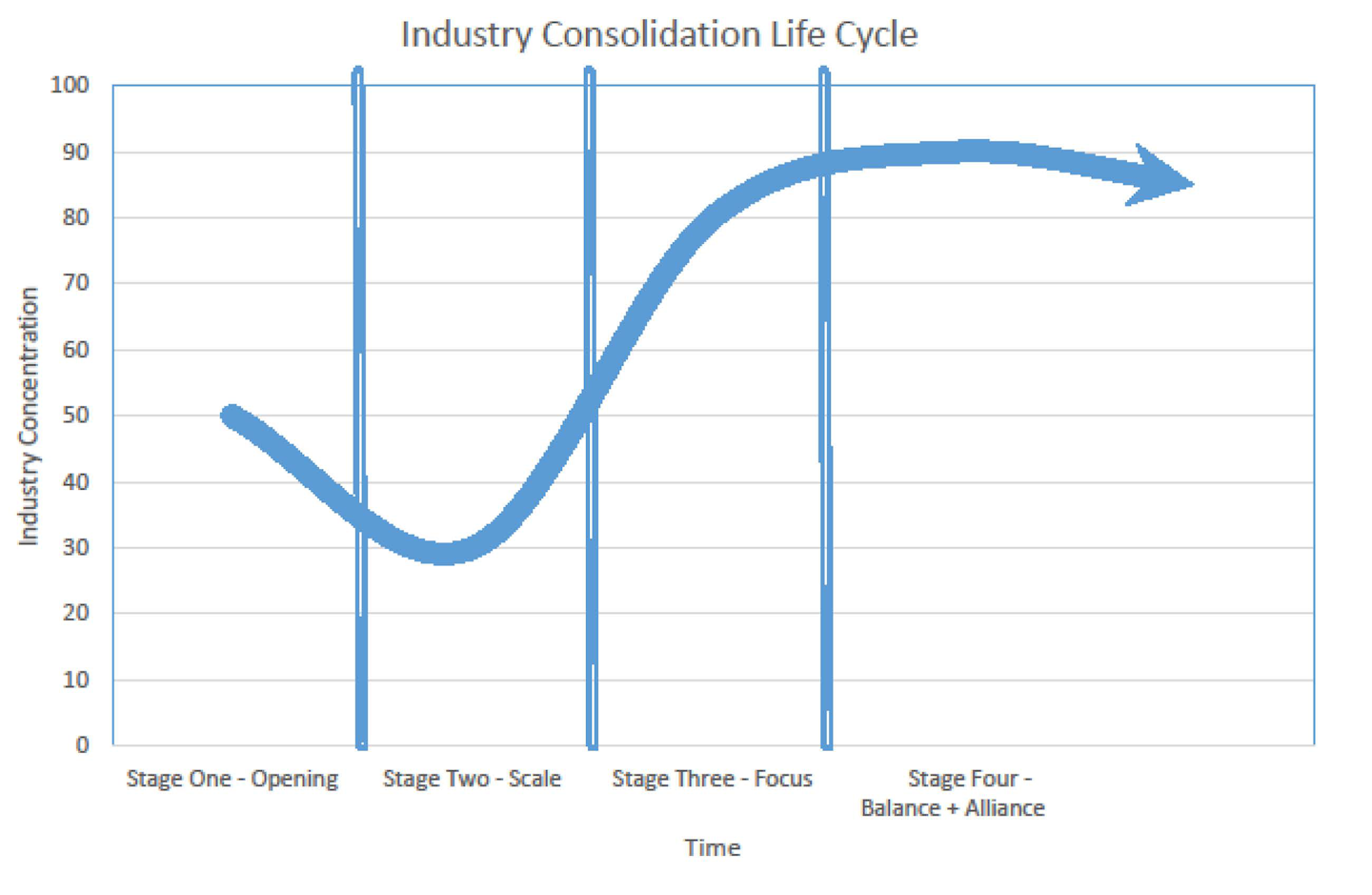 Once an industry organizes (or is deregulated), it will move through four stages of consolidation, or it will disappear. (Thanks to AT Kearney for the chart.)
Current research suggests that every company in every industry will go through these four stages — or disappear. Thus, an understanding of where in the cycle an industry is should be the cornerstone of a company's long-term strategic plan.
Bundlers. What Happens When Everyone Supplies Everything?
At the recent HDAW meeting, I noticed that the website conveniently finds products on the trade show floor. I entered a few products with which I have had history. I was surprised to find that we have 18 lighting suppliers and 51 brake parts sources!
Really?
As near as I can tell, Channel Function Shift (CFS) started with Champ Items and Balkamp in 1936. Suppliers became enamored of the 'one stop shop' sales strategy, especially in non-differentiated non-core lines like brooms, mops and buckets, and now includes 45 categories of application parts, tools/equipment and chemicals.
Today, armed with e-commerce tools, great delivery options and offshore sources for private labels, both traditional suppliers and distributor group PDCs have accelerated CFS to new heights, with discernible marketing approaches:
Availability: Dorman has 150,000 multi-market previous OEM-restricted parts.
Price: Automann has 15 major categories at attractive prices
Line extender: Dayton Parts moved from springs to suspension to brakes to steering
Logistics: LKQ Corporation initially formed in 1998 and did 220 acquisitions to reach No. 303 on Fortune 500 list with 45,000 employees.
Logistics: Aurora is an OEM spinoff that offers heavy-duty truck trailer replacement and crash parts through dedicated route delivery fleet.
Rebate: OES, marketing groups, PDCs are now adding direct importing and rebuilding. In this sense, the groups certainly are trying to create virtual consolidations.
By channel, company, technology, industry, product or geography, Channel Function Shift is moving forward unopposed.
Death of Brands
Brand equity is the positive effect of the brand on the difference between the price that the consumer accepts to pay when the brand is known compared to the value received.
 However, a recent well-recognized academic study confirms the trend that fewer than one quarter of American consumers are brand loyal, to stores or to suppliers. Take a moment to let this soak in. Ninety percent of the leading household goods brands are losing market share on consistently low-growth categories.
An effective brand today needs to be kept meaningful by communicating a tangible, distinctive value proposition to consumers; an emotional casual tie-in is no longer enough. Think of the basic marketing reasons to put huge bucks behind brands:
Conjure Message Instantly
Borrow / Enhance Credibility
Prompt an Emotional Affirmation
Motivate the Buyer
Augment Customer Loyalty
By the way, think that there is no emotional attachment to functional parts in this business? Try selling an SKF tapered bearing to a Timken guy. These parts are so perfectly identical that the parts are interchangeable! Try telling that to the technician at the counter. Gates vs. Dayco, Grote vs. Truck-Lite, Rotella vs. Delvac or Parker vs. anyone… the attachment is like my dad's generation preferences as a 'Chevy guy' vs. a 'Ford guy' (I'm not sure he had any 'Plymouth guy' friends, or even if there were such a thing).
Brand loyalty is not just a 'Battle of the Box' but rather a value-based preference — mostly dependent on the guys who throw away the box. Good thing, because I was able to find the exact same 'unique' design part in 10 different boxes. This amounts to 10 non-value adding choices of channel, outlet, info package and price! Very expensive — I guess our industry hasn't learned much from our passenger car auto parts brethren. When product value becomes secondary, the power in the channel migrates to the retailer/distributor, and the price pressure explodes.
As an industry, we seem to be interested in testing most of the traditional ways of destroying brand relevance:
Customer Confusion
Inaccurate Product/Service Quality Perception
Competitive Muddle
Bad Market Timing/Poor Geographic Emphasis
Lack of Defined Demand Plan
Poor Resonance with Target Markets' Cultures
The unfortunate consequence of industry-wide misuse of brands will be resolved in the only way remaining: price. It is not evil imports nor Amazon at that point, it is our own shortsighted decisions not to invest in brand equity.
Just to make things more interesting, we must answer a relatively new question: Are intermediaries customers or competitors? Whether a large distributor like FleetPride, a group brand or new labels introduced by OE aftermarket all-makes efforts, the position each channel fulfills in everyone's marketing plan must be carefully defined. We must limit our ability to compete with ourselves.
The Brand Asset Valuator has been developed as a tool to diagnose the power and value of a brand. In using it, a marketer surveys consumers' perspectives along four dimensions:
Differentiation: The defining characteristics of the brand and its distinctiveness relative to competitors.
Relevance: The appropriateness and connection of the brand to a given consumer.
Esteem: Consumers' respect for and attraction to the brand.
Knowledge: Consumers' awareness of the brand and understanding of what it represents.
I'm not quite sure how you might structure such a study, but the objectives of building a brand — even in the cross currents of the truck parts and service business — are clear.
The standard wisdom is that diversification spreads risk across sectors and geographies, giving managers more levers to play with should volumes stall or fall. By choosing to focus on specific categories in key markets, the company gives up leeway, but clearly builds alternatives to make that up through greater brand control and customer focus.
The drivers of consolidation, bundling and brand are simple: Truck operators and technicians are more educated than ever, with nearly limitless tech and commercial info. They have access to more product at a range of price points and availability.
As retailers and truck dealers shrink their inventories and the 'Omni-channel' approach begins to peak and becomes a less popular strategy, brands must be working to develop a stronger, more direct relationship with the end user … the guy who throws the box away.
Bill Wade is a partner at Wade & Partners and a heavy-duty aftermarket veteran. He is the author of Aftermarket Innovations. He can be reached at bill.wade@wade-partners.com.