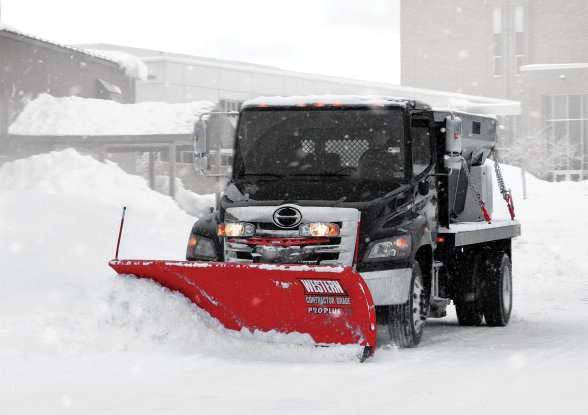 Western Products announced enhancements to its WIDE-OUT adjustable wing plow and debuted its Pro-Plus D straight plow last week at the Work Truck Show in Indianapolis.
According to the company, the updated WIDE-OUT plow is now two inches taller, going from 29 in. to 31 in. The design updates also include much-anticipated flared wings. This size update allows for snow operators to be more efficient on their jobs, as they can carry more snow with each pass and move on to the next job more quickly than ever before, the company says.
Western Products also announced a brand new, larger version of the plow, called the WIDE-OUT XL adjustable wing snowplow. In straight blade mode, it extends from 8 ft. 6 in. to 11 ft. , making it the widest Western plow for truck applications. This plow can handle tough, heavy contractor work and fits up to Class 6 trucks, the company says.
"The WIDE-OUT snowplow has always been about efficiency and control, and these updates enhance both of those key values," says Doug Clark, product manager for Western Products. "The new flared wings and increased size are powered by quality construction and our innovative technology, and it all adds up to our customer getting even more jobs done faster."
The company's new PRO PLUS HD straight blade plow is designed specifically for the challenges of heavy contractor jobs and municipal applications. Compatible with up to Class 6 trucks and measuring 10 ft. in width, it's one of the most durable straight blade plows on the market, the company says.
The 11-gauge powder-coated steel blade is reinforced with eight vertical ribs for added strength and stability. It also includes larger hydraulic rams, pins, gussets and hardware, plus a robust T-frame design with a massive center pin. Western says it measures 34 in. tall, making it ideal for large contractor jobs like parking lots, or for light, on-road municipal work.
"Our new PRO PLUS HD plow is as tough as the people who operate it," adds Clark. "Our customers demand durability and reliability for those challenging jobs, and we're excited to give them exactly what they're asking for in this new plow."