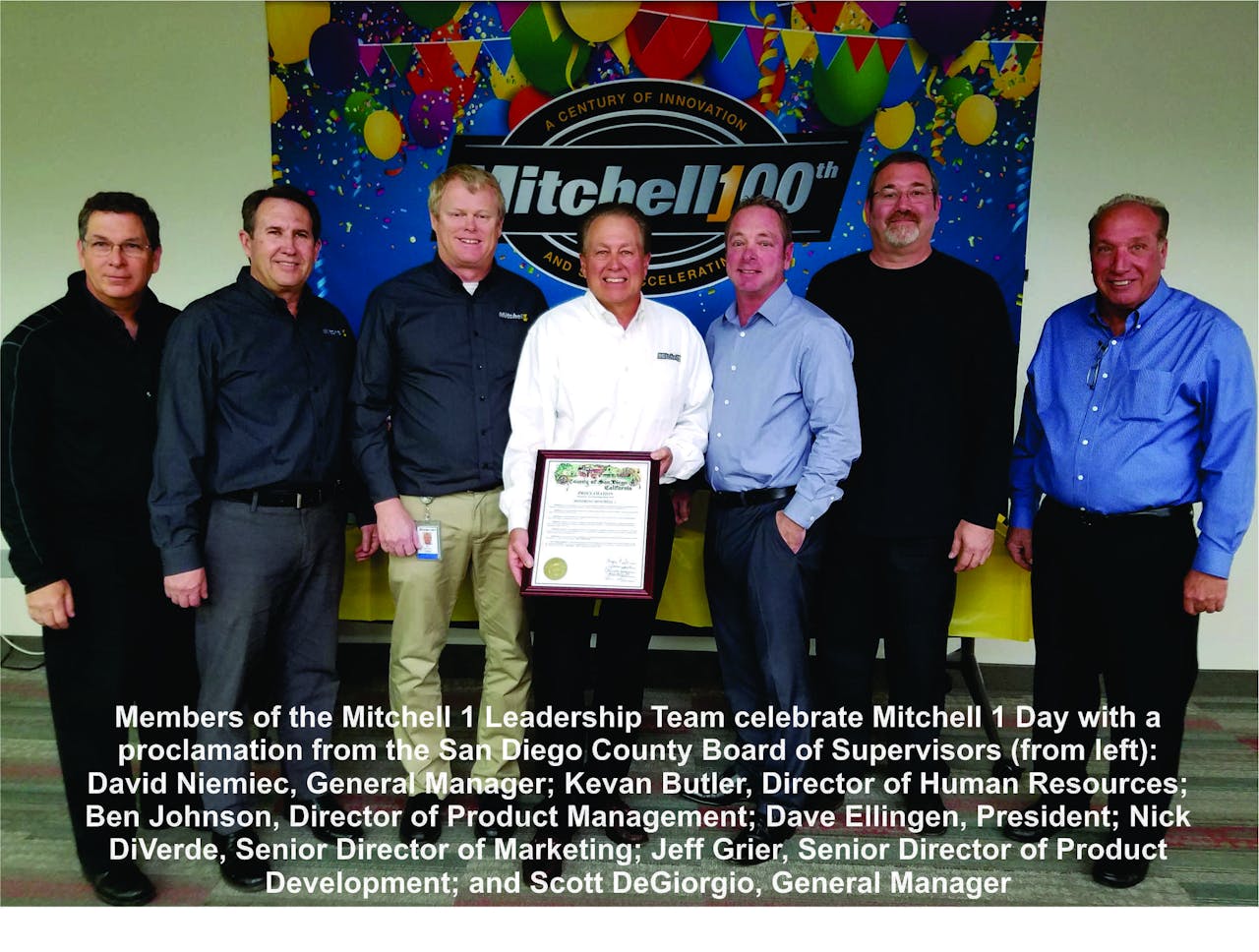 Last week Chairwoman Kristin Gaspar and all the members of the San Diego County Board of Supervisors declared Thursday, March 8, 2018 as "Mitchell 1 Day" throughout San Diego County.
This proclamation was made to congratulate Mitchell 1 on its 100th anniversary and recognize the company for serving the evolving needs of the motor vehicle industry as a trusted partner and leading provider of professional repair information solutions.
"Mitchell 1 has a proud heritage of innovation, leadership and dedication to excellence that has been accelerating the vehicle repair process for 100 years," says Dave Ellingen, president of Mitchell 1. "Our technology is continuously evolving as we expand our product offerings to provide the repair solutions that service professionals need to be successful. We have tremendous gratitude for our current Mitchell 1 employees, as well as recognize everyone who has been a part of the Mitchell 1 team in the past. We look forward to the next 100 years of innovation and continuing to help our customers gain efficiency in everything they do."
Mitchell 1 hosted an all-employee event in recognition of Mitchell 1 Day that also kicked off a year-long celebration of the company's centennial year.
Brief History of Mitchell 1
Mitchell 1's roots go back to 1918 with the first edition of the Reed Electrical Manual of Starting, Lighting, Ignition published by Service Engineering Company. Many years later, that automotive repair data was added to the vast database comprising the renowned Mitchell Manuals content library. Over time, the content evolved to become the foundation of ProDemand, Mitchell 1's industry-leading online auto repair information software.
Through the years, Mitchell 1 says its products have transformed to keep pace with industry and technological advances. The company has introduced many "firsts" to the industry, including the first PC-based repair information product for auto repair shops and the first Windows-based shop management system. Building on that legacy, Mitchell 1 says it has developed a suite of products and services designed to help independent vehicle repair shop owners work more efficiently from the moment the customer drives up, to the final invoice and beyond.
Today, Mitchell 1 says its line of software products provide comprehensive repair information, estimating, management and shop marketing solutions designed to help simplify everyday tasks for automotive and commercial vehicle service professionals, while improving productivity and profitability:
TruckSeries is a modular suite of web-based products for the medium and heavy-duty trucking segments, helping service professionals estimate labor times, diagnose and repair all makes of Class 4 through 8 trucks.
ProDemand, along with Manager SE, are used and trusted by generations of auto professionals for mechanical repair data, estimating and shop management information.
SureTrack adds to the power of ProDemand with an exclusive combination of verified knowledge from expert technicians, real-world diagnostic experience and repair timesavers, along with an interactive community of professional technicians.
SocialCRM helps auto repair businesses retain their current customers and acquire new ones through a shop marketing solution that offers a wide range of digital and social marketing strategies and tools.