If you missed it over the last few weeks — and with the abundance of new products hitting the market at the Technology & Maintenance Council (TMC) and Work Truck Shows, you might have — our friend Bill Wade recently provided us a tremendously comprehensive look at what he believes is the immediate future of the heavy-duty aftermarket.
In his three-part series, "Heavy-duty distribution's next 1,700 days," Bill touches on just about every independent aftermarket issue or potential issue you can imagine.
Part I kicks off with a look at how not only are parts changing, but also so are the materials being used to produce them. Bill dives into nearly a dozen categories where product designs are already being flipped upside down by new technology, and he says what we're seeing today is only the beginning.
In Part II Bill continues his deep dive into the aftermarket's transformation, tackling big data, the Internet of Things, predictive maintenance, blockchain, autonomous trucks and more.
But it's Part III where Bill really tightens the screws, hitting on a few issues I personally think will have the biggest impact on the independent aftermarket as we know it. In that article, Bill leads off with consolidation, which he describes as the industry's "single most defining trend." He follows that with a look at what I'd call Amazon-ism, and the concept of one distributor selling everything. From there, Bill zeroes in on a topic Truck Parts & Service will examine in detail next month, brand erosion, or the idea that customers and suppliers alike are shifting their preferences away from brands.
On that latter point, I won't say much there (don't want to spoil what we have coming in the magazine next month) other than to say I agree. Customer perceptions of brands and the value they provide are unquestionably being weakened in today's aftermarket.
Jumping back to those other issues, I think Bill is spot on with his assessment of consolidation. I think we all know consolidation isn't going away, and that as businesses (suppliers, dealer groups, distributors) merge and grow, those larger businesses are going to have a foundational leg up from a cost perspective against competitors. But consolidation doesn't assure domination. Bill is correct when he writes:
"Not likely to change: End users want to do business with companies that are easiest to work with, enabling research, price comparisons, shopping and shipping, proactive communication, returns, etc."
You don't have to be the biggest fish in your pond to win. Some of you already know this because you're doing it.
The independent distributor of the future will need to evolve, there's no doubt about that, but I don't believe distributors will need 20 locations, a partnership with a private equity firm and their own manufacturing and/or rebuilding division to make money in this business. If you mature with your customers, using data and technology to optimize your inventory, delivery strategies and communication processes, you're still going to be able to be competitive.
Even against Amazon.
The monolith may one day end up with a few million truck part SKUs and start stocking parts nationwide, but they're not going to put employees on the phone. No one is ever going to call Amazon with a busted, dirty wheel end bearing in their hand and ask for guidance on what it is. That call is going to remain in this channel. If you continue investing in your business and in your people, if you remain committed to solving customer problems above all else, I think you're going to be OK.
But that doesn't mean it's going to be easy, because as Bill mentions, change is inevitable and it's coming for all of us.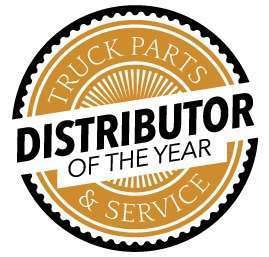 And while I have you here …
The 2018 Truck Parts & Service Distributor of the Year open nomination period will open in two weeks, on Monday, April 2, 2018. As is the case each year, every independent distribution business in the North American aftermarket except last year's winner Harman HVS is eligible for the award.
We will make a big announcement next month and provide the nomination link then, but I wanted to plant this seed in your head today. If you think there's a business out there who deserves the Distributor of the Year honor, be ready to let us know.