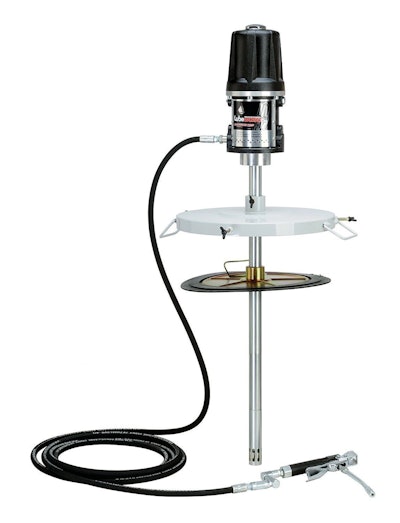 Intradin introduces the LUBEWORKS Heavy-Duty Grease Distribution Kit.
Intradin says the kit makes the task of servicing equipment to be much easier for technicians and a great time saver at a manufacturing or equipment service facility. The kit also is easy to transport to a job site with a pickup or on a dedicated service truck, the company says.
Intradin says this easy-to-use kit comes equipped with LUBEWORKS high efficiency 50:1 air powered pump that allows grease to be pumped up to NLGI #2.
It is designed for use with standard 120 lb. (65 kg) drum. Included also is the drum cover, follower plate, a 1/4 in. connection hose, a LUBEWORKS 9000 psi grease control valve with the Z-swivel that has standard 1/4 in. male and 1/4 in. Female fittings. The kit is ready to go, just add a drum of grease, the company says.