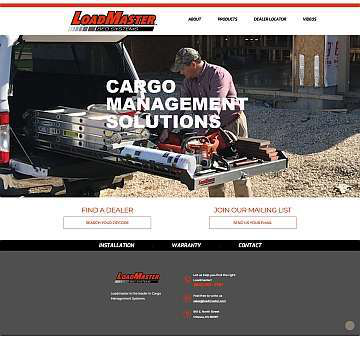 LTA Manufacturing LLC, has launched a new website for its LoadMaster line of products.
The company, which owns and distributes ATC Truck Covers, Jason Industries and Ranch Fiberglass, created LoadMaster as the fourth company under its umbrella. LoadMaster's products are in-bed cargo management solutions for light- and medium-duty truck owners. Designed to extend from the bed of the truck and allow easy access to items stored in the bed, LoadMaster systems are capable of holding varying weights, the company says.
The new LoadMaster website features easily clickable links to guide customers directly to its products with photos that showcase the company's offerings, LTA says. Within the page, the Products link drops down when scrolled over to reveal the LoadMaster product line and allows users to select its SD Standard Duty System, HD Heavy Duty System, CP Composite System, CapPack or the StorMaster Combo.
Additionally, at the top of the page are links to company information in the 'About' section, a products link, dealer locator link and videos. The three LoadMaster videos are embedded directly into the website in order to highlight the ease of use as well as the practicality of the products. LTA says the videos include how-to guides on how users can change the way they use their trucks, how the products are used to unclutter a pickup and how users can simplify access to the full truck bed.
"LoadMaster is a new company and brand under the LTA Manufacturing LLC umbrella, so it was important that we create a website dedicated to the products offered through LoadMaster rather than placing that information on the other websites," says Dustin Geyer, president of LTA Manufacturing LLC.
Using a clean, user-friendly design, the new website also allows users to quickly locate installation, warranty and contact information right from the home page, LTA says. Users have the option to sign up for the mailing list as well. LTA says the website is desktop, laptop, tablet and mobile phone compatible for easy viewing.