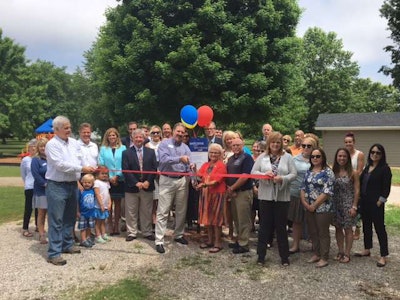 Bendix Spicer Foundation Brake LLC (BSFB) has sponsored and installed a Born Learning Trail for children in its home community of Bowling Green, Ky. The trail was unveiled at G.H. Freeman Park as part of a Bowling Green Area Chamber of Commerce ribbon-cutting on May 23. Community members joined in the celebration of the trail, the first to be installed in Southern Kentucky and only the second in the state.
BSFB says the Born Learning Trail is a series of learning activities, created as stations along the path, that adults can undertake with young children. The trail is designed to help adults interact with children to boost language and literacy development, while helping caregivers understand how best to support early learning outdoors. National early learning experts, through United Way of America, approved the Born Learning Trail, which is based on the most recent early childhood research, the company says.
Bendix Spicer Foundation Brake provided financial backing, with support from Lowe's® and Warren County Parks and Recreation. Volunteers from the company installed the trail's 10 learning stations, erecting the posts and affixing the signs that explain the opportunities available at each one.
"Giving back is important to all of us at BSFB, which is recognized as a leading community supporter and an employer of choice in Warren and surrounding counties," says Kevin Greer, senior human resources generalist for Bendix Spicer Foundation Brake.
"We take pride in our team members, our sense of family, our robust training program, and our encouragement of ongoing education. Partnering with United Way of Southern Kentucky for the Born Learning Trail reinforces our commitment to raising the bar for kindergarten readiness in our local community, as well as the state of Kentucky."