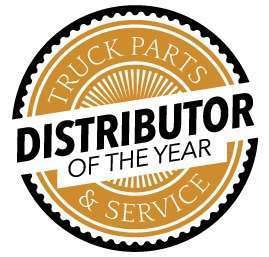 The 2018 Truck Parts & Service Distributor of the Year nomination period has entered the home stretch.
There are now just two weeks left to nominate the industry's best companies for our annual award before our nomination period closes on Saturday, June 30, 2018. As you know, every independent aftermarket distributor except our 2017 winner (Harman Heavy Vehicle Specialists) is eligible for our 2018 award, and one person can nominate up to three distributors at any one point.
Our nomination process also is designed specifically to be simplistic for you, Mr. Aftermarket Professional, in that our submission form can be completed in less than a minute. You tell us who you are, the name of the business you want to nominate and why you think that company is the best. That's all we ask. We can take it from there.
After our nomination period closes, we will announce the five distributors with most nominations as our finalists and move forward in profiling and recognizing those excellent businesses. Because that's really what the Truck Parts & Service Distributor of the Year program is all about — recognizing those in our marketplace who are doing their best to service their customers and community and make this industry so great.
If you have any questions about the program, you are welcome to contact me at anytime at 309-530-1582 or lucasdeal@randallreilly.com, but even if not, I encourage you to nominate a distributor for this year's award.
There are many great aftermarket businesses we have honored with our annual award over the years, but even now, 17 years into this, we know there are even more who are deserving and have never had their time in the sun. We want to recognize everyone, and we want you to help us.
PLEASE CLICK HERE TO NOMINATE A BUSINESS FOR THE 2018 TRUCK PARTS & SERVICE DISTRIBUTOR OF THE YEAR.
Thank you so much. We look forward to hearing from you all!