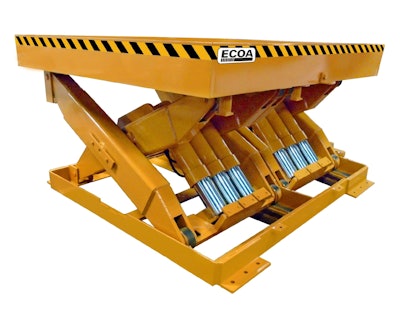 Presto ECOA says its new MLT Series heavy-duty hydraulic lift tables are designed to handle extreme high0-capacity loads of up to 120,000 lb. (96,000 lb. end/side capacity).
The company says more than 45 different models are available with lifting heights from 52 in. to 92. in. Each can be outfitted with a range of standard platforms from 4 ft. by 6 ft. up to 10 ft. by 22 ft. with larger/custom sizes available, allowing them to be configured to suit virtually any high capacity lifting requirement.
Additionally, MLT Series lifts are outfitted with rectangular structural tube scissor legs and torque tubes for maximum stability and minimal deflection even under extreme load conditions. Depending on the capacity and platform requirements, Presto ECOA says they are outfitted in one of four scissor leg configurations including: one set of scissor legs; two sets of scissor legs in a side-by-side configuration; two sets of scissor legs in an end-to-end configuration; or four sets of scissor legs in a two-by-two configuration.
Standard MLT features include a hand pendant or foot switch control for lifting and lowering, an upper travel limit switch plus eight mechanical backup stops, dual safety restraint maintenance bars, cylinder rod end protectors, a flow limiter valve at cylinder bases, and double wire braid pressure hoses, the company says.
MLT Lifts also can be customized with a wide variety of options including custom platforms, tilt tops, powered turntables, conveyor tops, pneumatic ball transfer tops, special fixtures, v-cradles, powered traverse, bellows skirting, larger motors, corrosion resistant finishes, weatherproof controls and many more.