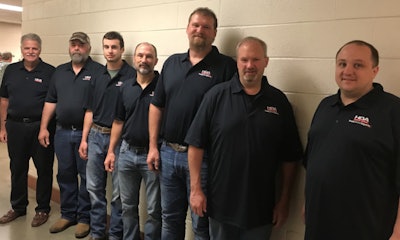 After participating in HDA Truck Pride's inaugural Top Tech Competition, two technicians will advance to TMC's SuperTech. Brian Judy from RT&T Repair in East Dubuque, Ill., and Evan Lang from E.L.M. Repair and Refrigeration in Edgar, Wis., beat out four other HDA Truck Pride truck service experts and 50 other technicians, to finish 5th and 6th overall, respectively.
The event took place at the Maryland Motor Truck Association's hands-on competition late last month in Baltimore. The two will move on to compete with hundreds of finalists during the September 2018 TMC SuperTech competition held in Orlando, Fla.
"While our staff at HDA Truck Pride is incredibly proud of the success of the inaugural year of this program, it's apparent that the overwhelming sense of pride comes from our truck service expert's and their sponsoring HDA Truck Pride distributor. Two of our six finalists had their trips to Maryland upgraded by their employers, with enhanced flights, hotel accommodations, spending money, vacation time and more," says Nikki Paschall, HDA Truck Pride marketing programs manager.
"In addition, our suppliers have sponsored prizes for our winners. Minimizer will be sending a prize package to the top two winners, valued at more than $600. Ingersoll Rand also is sending a prize package of hand tools valued at more than $400. Training is at the forefront of everything we do, and we're honored to be partnered with suppliers, distributors and truck service experts who support this mission," Paschall says.