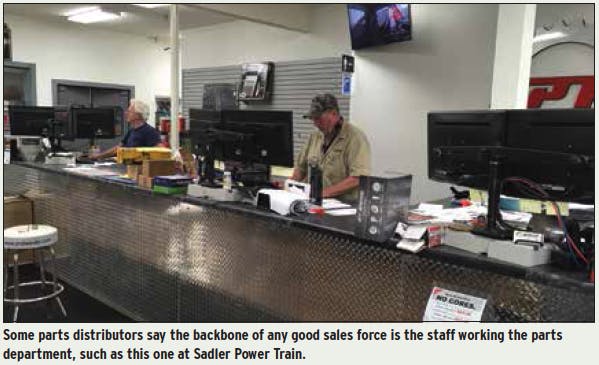 Aftermarket truck parts distributors' outside sales forces are an important and effective way to compete with online sites selling similar products at lower costs. Sales reps are doing much of the in-person communication with customers, but the attention and service they provide is just one aspect of providing good customer service that can trump sites like Amazon. Some say the backbone of any good sales force is the staff working the distributor's parts department.
"Like our outside sales force, our inside counter sales team is a veteran group with a lot of knowledge. Regardless of who the customer is working with, it makes for a seamless interaction between [the company and its customers]," says Matt Poeltler, marketing director, Sadler Power Train.
Gregg Truelove, director of parts, Custom Truck One Source, says the outside salespeople do a great job of "opening the door" with customers, but an experienced parts staff providing top notch customer service is integral to a good relationship with the customer.
"The one thing so many people don't realize in the parts business is the outside sales person is only as good as his inside support — a quality staff doing everything from answering the phones to pulling the correct parts and getting them delivered in a timely fashion," Truelove says, adding if a company's parts staff isn't knowledgeable and helpful, "the outside salespeople will not be successful."
To return to July's article on 'The Human Touch,' please CLICK HERE.