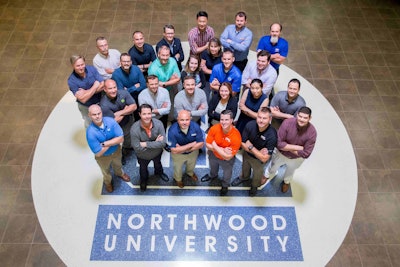 Heavy-duty aftermarket professionals have completed the week-long Heavy Duty Leadership (HDL) education conference, held at Northwood University. The annual program, offered by the University of the Aftermarket, was created to develop the business, management and leadership skills of mid-career professionals working in the North American commercial vehicle aftermarket, according to an announcement.
Participants in this year's HDL class, now in its seventh year, represented a wide range of heavy-duty aftermarket job functions, geographies and experiences. This year's class includes:
Colter Adkins, TruckPro
Dave Baker, Dorman Products
Michael Crews, Tri-States Automotive Warehouse
Christopher Crippen, Sanel NAPA
Brett Delp, Dorman Products
Tina Geraghty, Velvac Inc
Mengshi Guo, Panasia CVS USA Inc.
Don Jordan, Denso
Travis Kokenes, Mackay & Company
Michael Lieske, TruckPro
John Lurz, HDA Truck Pride
Jason Marath, 6State/TruckPro
John Mays, Accuride Corporation
Jim McManus, Accuride Corporation
Michelle Montgomery, TruckPro
Dan Neil, Commercial Vehicle Group
Clayton Nesvick, TruckPro
Dan Piccoli, Fras-Le North America Inc
Chris Robinson, AXN Heavy Duty
Sherri Short, Dana Incorporated
John Strem, Standard Motor Products
Ed Turnquist, Standard Motor Products
Paul Vollmer, Advance Auto Parts
Keith Woods. Horton Inc.
Crystal Yao, Panasia CVS USA Inc.
The program opened July 8 at the Sloan Family Building for Aftermarket Studies with a keynote presentation from Meritor Aftermarket Vice President Brett Penzkofer. The week also included leadership and industry-focused sessions from faculty drawn from Northwood University's DeVos Graduate School of Management and leaders in the commercial truck aftermarket.
Heavy Duty Leadership graduates earned 3.5 continuing education units that can be applied toward their Automotive Aftermarket Professional (AAP) or Master Automotive Aftermarket Professional (MAAP) designations. The next Heavy Duty Leadership program will be held in mid-July, 2019.