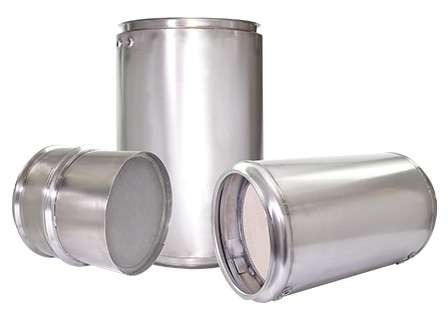 Denso Products and Services Americas, Inc., an affiliate of Denso Corp., has expanded its PowerEdge diesel aftertreatment line to cover light- and medium-duty vehicles.
Leveraging lessons learned from its successful existing line of diesel particulate filters (DPFs) and diesel oxidation catalysts (DOCs) for heavy-duty Class 8 trucks, Denso states it is bringing proven technology to an expanded customer base.
"We've expanded our PowerEdge diesel aftertreatment program and national sales team to support all our valued business partners to allow them to differentiate themselves from their competition," says Gilbert Ramirez, manager, heavy duty product management at Denso Products and Services Americas. "Their success is our success, so we've added more products and customer support to increase their business growth opportunities."
Denso now offers 13 DPF and DOC parts numbers covering the most popular light- and medium-duty trucks in operation, including the Ford 6.4L, GMC and Chevy trucks powered by the Duramax 6.6L engine, Dodge models powered by the Cummins 6.7L engine, and the Mercedes Sprinter 3.0. An additional four part numbers will be releasing soon, bringing the program total to 17 part numbers by September. All light- and medium-duty PowerEdge DPFs and DOCs come with a warranty of two years or 36,000 miles, the company says.
Denso also has added six new DOC part numbers to its heavy-duty diesel aftermarket product line, expanding applications to cover Mack MP7 trucks and big rigs powered by Cummins ISX and MaxxForce 13 engines. An additional 10 part numbers will be releasing this fall.
Additionally, demonstrating confidence in the quality, reliability and durability of its products, Denso says it has extended its warranty on aftertreatment products for the heavy-duty market to three years with unlimited mileage. All together, PowerEdge aftertreatment products cover more than 90 percent of today's heavy-duty trucks whose engines meet 2007, 2010 and 2013 model year emissions standards, the company says.
Denso says the PowerEdge aftertreatment line is manufactured with U.S. sourced high-grade stainless steel that increases durability by resisting corrosion, OEM substrates that maximize performance and minimize back pressure, advanced coatings that increase catalyzation, passive regeneration and fuel efficiency, and "exact-fit" design for specific application needs and easy installation.With few part numbers covering a wide range of applications, Denso claims its distribution customers save on shelf space while supplying more fleets and end-users.
Other 2018 program enhancements include gaskets and clamps with each filter. Replacement gaskets and clamps for the heavy-duty market are also sold separately, the company says.
Finally, Denso has strengthened its national aftermarket sales team for the heavy-duty sector by adding three regional sales managers, bringing the total sales force to 11 associates. Denso also has beefed up its larger sales network by adding 60 manufacturer representatives to drive new business opportunities for warehouse distributors of all Denso Commercial & Heavy Duty products.
The company now has two fully staffed departments dedicated to sales, service and support for its customers in the heavy-duty market. One group is focused on OE sales and the other on aftermarket business, the company says. Denso also has strengthened its aftermarket operations by expanding its engineering team and investing in technology and modernization for product development and manufacturing to support customers' future business growth.