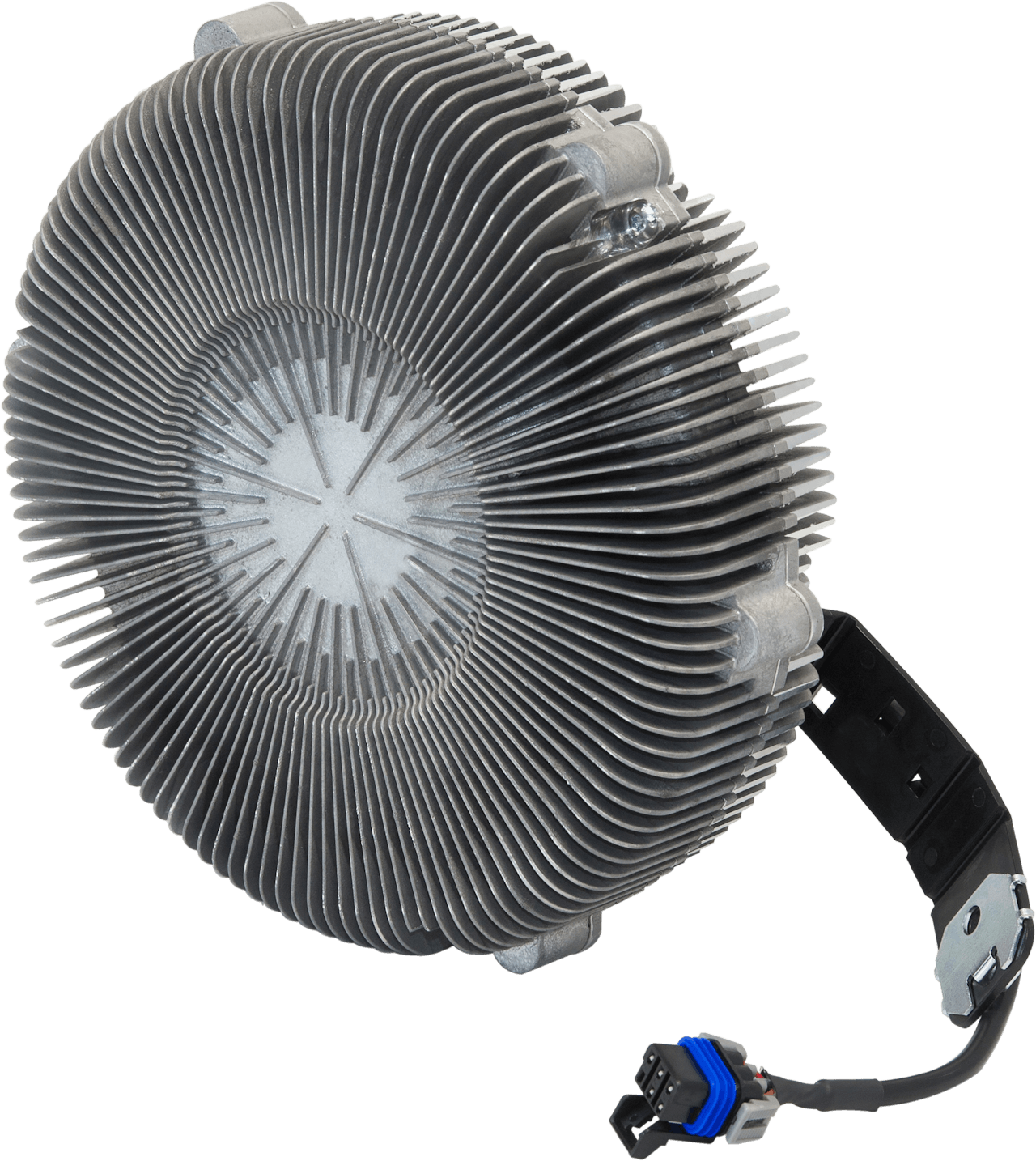 Horton showcased its new LCX Series of variable-speed fan drives to help medium- and heavy-duty truck OEMs meet increasingly stringent Green House Gas Phase 2 emissions regulations at its media day last week in Roseville, Minn.
The LCX Series is based on Horton's proven variable-speed design, which rotates the fan at a wider range of speeds to more precisely match actual cooling requirements. In effect, Horton states it does not simply run at 'high' speed as in the case of an on/off clutch, nor does it switch between a constant or high speed as in the case of a two-speed fan drive. The primary benefits, consequently, include reduced fuel consumption (and thereby emissions), decreased noise and less parasitic draw on the engine, the company says. The LCX Series enhances these benefits even further with three industry leading features: Cold-Start Disengagement (CSD), extremely low off-speed and superior low-speed controllability.
"These new best-in-class products provide Horton with a meaningful competitive advantage in the market and continue its tradition of innovation," says Manish Virmani, vice president of Global Market Development at Horton. "Further, they will help our customers meet the escalating requirements and challenges presented by the EPA Green House Gas Phase 2 emissions standards for medium- and heavy-duty vehicles."
Horton states low off-speed in a fan drive ensures that very little amount of energy is consumed by the spinning of the fan during times when cooling is not needed. The new LCX Series drives feature industry leading off-speeds that are as much as 50 percent lower than competitive products under similar conditions.
Additionally, optimized low-speed controllability is another feature built into Horton's new LCX Series. Fan drives are often not fully capable of delivering precisely what an engine's ECM requests in terms of cooling production — especially when the engine speed is low and the desired fan rotation is also close to the lowest level, Horton says. This phenomenon is particularly noticeable on stationary equipment and manifests itself in the form of uncontrolled surges, wherein the system is relatively less stable.
The LCX Series Variable-Speed Fan Drives, however, can be controlled at very low speeds to accommodate slighter cooling needs such as those associated with AC head pressure, the company says. The benefit is more precise fan control across all speeds which increases fuel economy and thereby reduces emissions. Low-speed controllability also offers more available horsepower and reduced noise variation due to smoother modulation.
Optimized fans for efficiency, cooling needs
Horton also introduces the HS6 and HS11A fans to help the on-highway market meet increasing efficiency demands on cooling systems by optimizing fan blade design characteristics.
Horton says the HS6 features an innovative six-blade design that is light weight and efficient. The smaller number of blades reduces the amount of obstruction (reduced frontal area), allowing more ram air to pass through the compartment, the company says. This "natural cooling" reduces draw on the engine, reducing fuel consumption and related emissions. Yet, when increased cooling is required, the unique design of the blade makes it fully capable of effectively and efficiently cooling the engine. The HS6 features 35-percent less blade area than the Horton eight-blade MS8 fan and its performance is enhanced when paired with a Horton fully-variable drive, the company says.
The Horton HS11A fan, with its innovative blade profile, is said to provide increased flow and pressure required by the cooling systems in high-performance heavy-duty trucks. It is ideal for tightly packed airflow restrictive cooling systems, Horton says. Though it features less blade area (five percent) than the standard 11-blade molded fan, it produces five percent more airflow and two less decibels of noise.
"The HS6 and HS11A fans were designed to alleviate some of the challenges our customers are facing in achieving increased air flow with higher system restrictions," says Virmani. "They exemplify Horton's ability to develop new and innovative products that allow truck manufacturers to meet increasingly stringent energy efficiency and sound regulations."