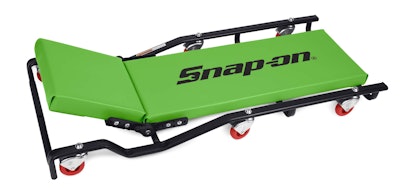 Snap-on released a new crop of shop tools and equipment Monday, including a 3/8 in. drive heavy-duty impact wrench, a four-piece combination screwdriver set and flat-oval adjustable creeper.
The company describes the products as follows:
The Snap-on MG325G 3/8 in. drive heavy-duty impact wrench is compact, balanced and lightweight (2.8lb.) for working in restricted areas. With 325 ft.-lb. maximum torque, the MG325G gives a green light to 10,700 RPM while delivering 1,400 blows per minute. The twin-hammer impact mechanism provides harder hitting blows with fewer moving parts, which extends the tool life. For convenience, the MG325G has a one-handed forward/reverse lever, and the cushioned trigger and grip make it more comfortable to use, the company says.
The Snap-on SGDX40BG 4-piece combination Mini-Tip Soft Grip Instinct screwdriver set contains two flat tip and two Phillips tip screwdrivers, all featuring the unique Instinct handle design with six curves and flutes for added turning power. Nickel chrome plating protects the blades against corrosion. Tip identifiers on this green set and on the other SGDX40BG color options help in choosing the right tool for the job, the company says.
The Snap-on JCW67G Flat-Oval Adjustable Creeper is engineered for easy under-vehicle access and has flat-oval tubing to eliminate sharp corners and increase comfort. Maneuvering is easy with a caster profile that reduces rolling resistance. Its hinge mechanism allows for one-hand height adjustment, while a four-position headrest provides maximum comfort. In addition, the creeper is fully-padded with high-density 80 lb. foam and topped with a heavy-duty green vinyl cover, the company says.