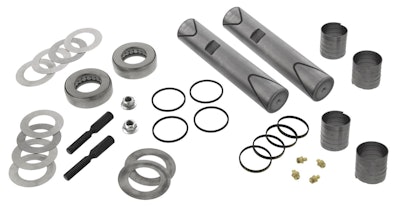 TRP introduces a new line of TRP No-Ream King Pin Kits.
TRP says the kits are manufactured using high quality steel, state-of-the-art heat treatment and machine tool technology. The kits are available in multiple diameter lengths and fit many makes of trucks and buses. They include best-in-class spiral bushings with deeper grease grooves to allow 25 percent more grease in high wear areas, TRP says.
The new kits also make repairing front-steering axles more efficient. There is no need to ream the king pin bushings after installing them in the steer knuckle, which will save on labor and repair time, TRP says. With the new TRP No-Ream King Pin Kit, the use of reamers, presses and pressing-in bushings during installation are no longer necessary.
All TRP No-Ream King Pin Kits are backed by a one-year or 100,000 mile warranty, the company says.