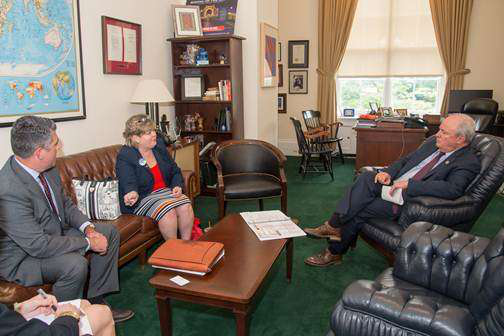 WABCO Holdings has opened its first North America Customer Care Center, providing full support for the comprehensive portfolio of industry-leading WABCO products sold in the region.
WABCO has significantly expanded its product offering following the acquisition of four high-tech manufacturing businesses since April 2016 in North America. WABCO states the Customer Care Center will provide first-rate customer support for well-established WABCO technologies in addition to Sheppard steering gears, MICO off-highway systems, aerodynamic solutions tied to the acquisition of Laydon Composites, and products associated with Meritor WABCO, the former 50-50 joint venture.
"Over the past years, WABCO has greatly expanded its commitment to the North American market place and our industry," says Jon Morrison, WABCO president, Americas. "We are driven by a relentless focus on customer-centricity benefiting commercial vehicle manufacturers, fleet operators, dealers, and distributors in the region. Our new Customer Care Center is yet another sign that we put our customers first and is, thereby, another differentiator for WABCO in North America."
The Customer Care Center combines the technical service teams of WABCO and acquired companies, creating a powerful organization with more than 40 highly knowledgeable professionals based in the U.S. The operation also will include a dedicated Aftermarket Sales Desk for seamless and efficient part order processing. WABCO says the Customer Care Center employees currently located at facilities in Troy and Rochester Hills, Mich., will relocate to WABCO's new Americas headquarters in Auburn Hills, Mich., when it opens in the third quarter 2018.
WABCO's Customer Care Center is now open from 7:30 a.m. ET to midnight ET Monday through Friday and 9 a.m. ET to 6 p.m. ET on Saturday. WABCO customers can reach Customer Care team members via phone at (855) 228-3203 or by email at wnacustomercare@wabco-auto.com for technical service questions or wabconaorders@wabco-auto.com for service parts ordering support.