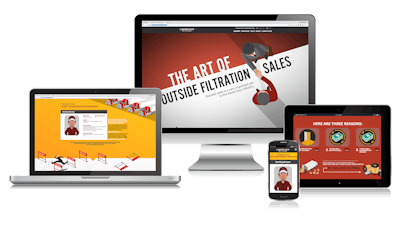 Luber-finer has added a module to Luber-finer University, the filter company's free online education program for distributors, point-of-sale associates and others who work in the heavy-duty industry. Module 6 of this training tool, which can be accessed from any Internet-connected device, educates users about the art of outside filtration sales and the vital role these sales professionals play in helping fleet maintenance managers keep their vehicles moving, according to an announcement.
"Previous modules in Luber-finer University offered the in-depth knowledge about heavy-duty filtration that every sales professional needs," says Layne Gobrogge, director of heavy-duty marketing for Champion Laboratories. "This module takes the next step and is designed to help sales professionals at every level learn the skills and techniques that are the keys to a rewarding sales career."
Module 6 provides an interactive experience that shares information offered by Luber-finer's own outside sales team. These "tricks of the trade," acquired over decades of collective sales experience in the heavy-duty industry, can be helpful to current outside sales professionals as well as:
Parts counter salespeople interested in making the transition to outside sales
Truck drivers looking for a career change within the industry
Warehouse workers who want more direct interaction with customers
With the release of this module, Luber-finer continues its effort to offer training materials engineered to grow the heavy-duty community's collective knowledge and help industry partners succeed. To enroll in Luber-finer University, CLICK HERE.