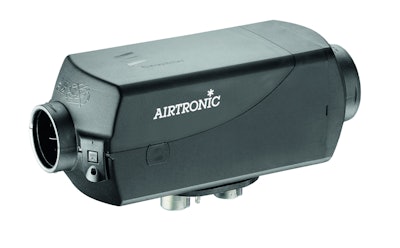 Eberspaecher introduces the second generation of its Airtronic family air heaters.
With the compact Airtronic S2 Commercial for trucks, the Airtronic M2 Commercial for ambulances, or the Recreational variant for RVs, Eberspaecher says the long service life and pleasingly quiet running air heater provides comfortable temperatures in many different vehicle types.
The fuel operated Airtronic 2 is an update to Eberspaecher's successful family of air heaters. Its brushless motor means it offers a long service life of more than 5,000 hours. That makes the second-generation Airtronic a highly reliable heating system for a wide range of applications including long-haul trucking, onboard emergency service vehicles, or on vacation trips. With its integrated altitude sensor, it is also ideal for a ride in the mountains. The sensor optimizes burner operation, and adapts automatically at altitudes up to 3,000 meters, the company says.
Eberspaecher adds the EasyStart operating elements make controlling the pre-heater simple and convenient and the new built-in EasyStart Pro operating element is intuitive to control. Using the timer function, the desired start time and heating duration can be preset. The integrated temperature sensor enables the temperature to be regulated exactly as desired. The display and a multi-color LED ring around the operating button continuously indicate whether heating or ventilation mode is currently active.
An added plus – especially for vehicles with multiple heaters, such as RVs – is the centralized control of up to two heater units, the company says. And Eberspaecher says its pre-heaters can also be controlled using EasyStart Web or by conventional remote controls.