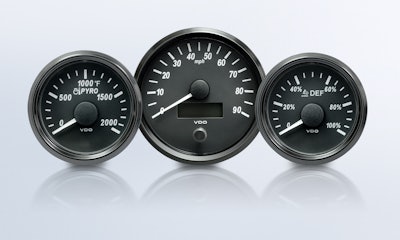 Continental's Commercial Vehicles & Aftermarket business unit has introduced a line of round instrumentation for use in on-highway and off-highway applications, including agricultural, mining and stationary power applications.
The VDO SingleViu instrument series features a dual input that enables operation with analog signals and digitally with CAN bus. These instruments provide all of the functions of the VDO Vision, ViewLine and CANcockpit instrument lines, and are suited for heavy-duty trucks, buses and off-highway equipment, according to an announcement.
The VDO SingleViu line is available in 74 variants for original equipment, retrofit or service replacement. VDO SingleViu is easy to use and provides a user interface via the LCD display on the speedometers and tachometers. The SingleViu line includes 2 1/16 in. (52mm) diameter gauges for temperature, fuel, pressure, tachometer, DEF, voltage, amperage and hourmeter. Speedometers and tachometers also are offered in 3 3/8 in. (80/85mm) and 4 in. (100mm) diameter.
VDO SingleViu instruments accept input from digital CAN bus connection (CAN SAE J1939) and commercially available analog sensors. They feature an adaptable sensor curve or an adaptable pulse count and can be configured with the SingleViu ConfigTool or the LCD screen (speedometers and tachometers). The gauge's electrical connection uses watertight Molex MX150 connectors.
VDO SingleViu gauges are designed to perform in a wide range of weather and environmental conditions. Design features include double-glazed and shock-resistant mineral glass to prevent fogging and damage under the harshest conditions. The housings are flame-resistant environmentally sealed to class IP67. The voltage range is from 8V to 32V. The operating temperature range is -40° F to 176° F.
The company says SingleViu instruments provide exceptional readability, featuring a 240° display angle and RGB LED background illumination for dial and display. An anti-reflective coating is applied to the lens to help maximize readability. The 80/85 and 100mm gauges include internal pushbuttons that can control the additional information displayed in the operating menu. Up to five tell-tales can be added to the dial face, and both bezels and dials can be adapted to meet specific customer needs.