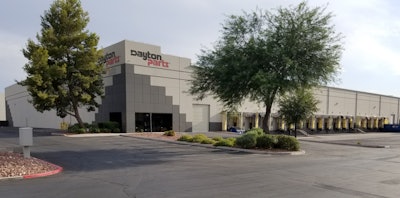 Dayton Parts LLC has announced the opening of a 90,000 sq.-ft. distribution center in Las Vegas, to support customers in multiple states in the western region of the country.
"We are excited to be opening our new facility in Las Vegas to continue to grow our long and successful relationships with distributors in the western states," says Paul Anderson, Dayton Parts president and CEO. "This addition to our existing U.S.-based facilities positions us to strengthen our supply chain and support future channel growth by increasing service levels to customers."
The distribution center, located at 3101 Marion Drive, will stock the complete portfolio of Dayton Parts products for customers located in Alaska, Arizona, California, Hawaii, Idaho, Montana, Nevada, Oregon, Utah, Washington and Wyoming. Customers will be transitioned from their current distribution center in phases over the next several months.
"Our goal is to continue to exceed our customers' expectations on each and every order," says Sam Stantial, Dayton Parts vice president of sales. "The new center will shorten lead times and offer increased flexibility in ordering to ensure the product reaches the end user when and where they need it."
Dayton Parts will reach 95 percent of its customers' locations within one shipping day by the end of 2018, Stantial adds.
Emergency shipments and stock orders will be shipped from the new distribution center with the Lewisville, Texas, facility providing support as needed. Customer orders in the Central U.S. will be fulfilled through the Lewisville, Texas, distribution center with the Harrisburg, Penn., distribution center covering Eastern U.S. customers. The company's Edmonton, Alberta, facility will continue to service western Canada while the Mississauga distribution center will service Eastern Canada.