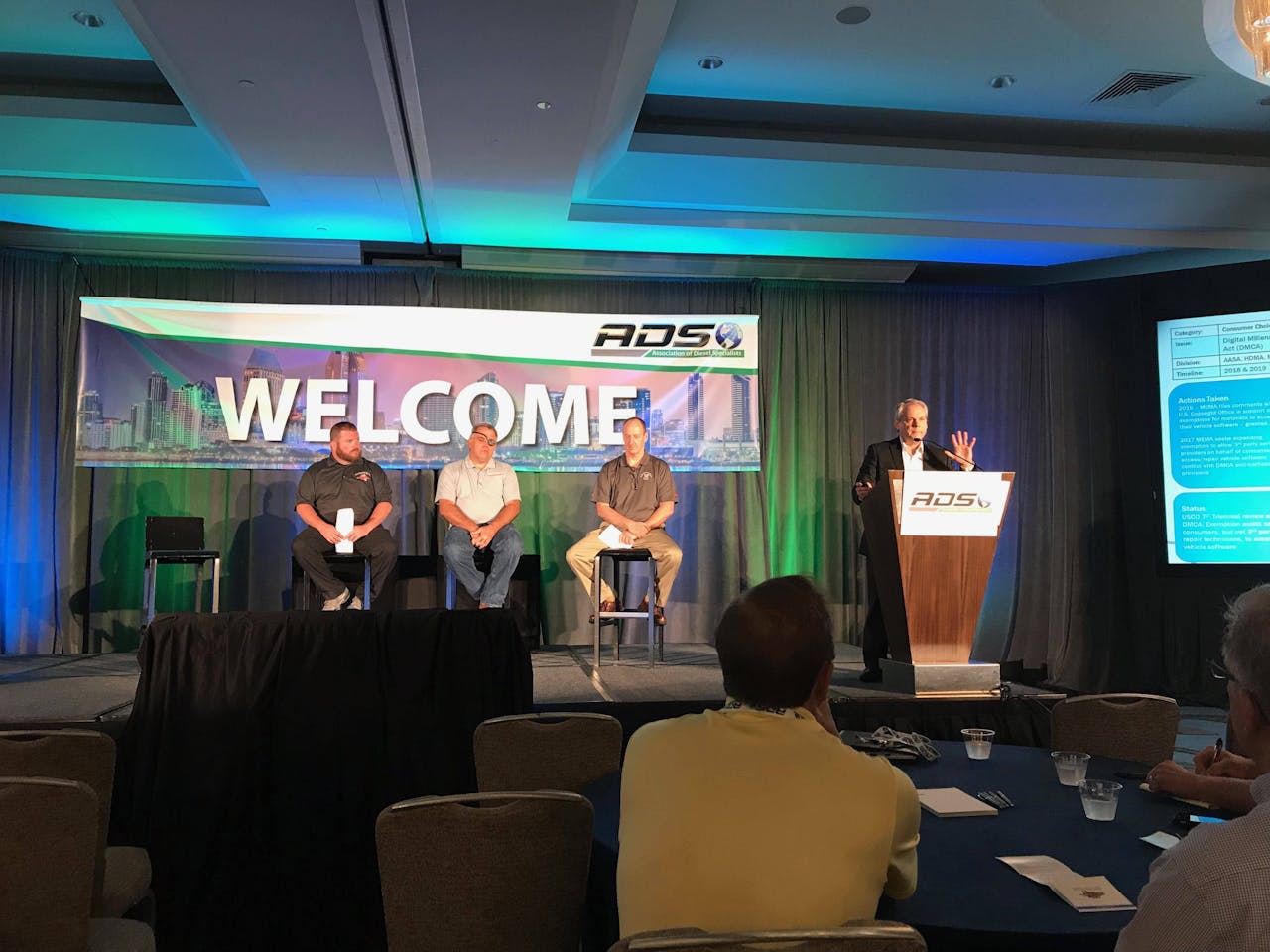 One of the aftermarket's biggest consistent struggles is acquiring and storing important repair and component information. During a service panel Thursday at the Association of Diesel Specialists (ADS) Convention and Tradeshow in San Diego, four experts serving all classes of diesel service shared their best practices for accessing and saving important information that keeps their service bays rolling and customers happy.
The panel was kicked off by Paul Thoms, president at Seidel Diesel Group. Thoms says Seidel Diesel Group and its business Midwest Fuel Injection have found success with two independent third-party data providers, Mitchell 1 and AllData. Thoms says the former is used for Class 5-8 trucks and the latter works best with passenger cars and trucks. He says features of the sites include OE part numbers, repair instruction, repair time information, DTC information and a repair community forum.
Mike Perkins with Diesel Parts Plus LLC says some industry organizations also are committing to data dissemination, and notes the National Automotive Service Task Force (NASTF) and ATA's Technology & Maintenance Council TMC Connect website as two sites his business has come to rely on. Perkins says Diesel Parts Plus uses TMC Connect to access the council's recommended maintenance practices and develop service standards for its own bays. The NASTF website also has been useful because it lists what OEM scan tool is needed to monitor any vehicle, as well as instructions on where to acquire the tool and its cost.
Supplier sites are helpful, too, says Al Roberts with Turbo Diesel & Electric. Roberts says his company has booked the technical websites of most of its top suppliers (Garrett/Honeywell, BorgWarner, Caterpillar, Cummins, etc.) and uses each site almost every day. Roberts says the information available on these sites are growing at an incredible rate, with how-to installation videos, detailed maintenance instructions and more. Roberts also notes the growing number of parts number cross references tools that are being built into these supplier sites.
Finally, Curtis Owens, parts manager at Area Diesel Services, says it is important for diesel service businesses to create easily accessible information repositories that can be access by all employees. Owens says his business has created detailed data folders on its company server to store any information it deems important. The company also has subscribed to a password manager, which aggregates passwords for all websites and systems into a single account with one password. He says this simplicity guarantees employees are never accidentally locked out of a data library they need at any time.