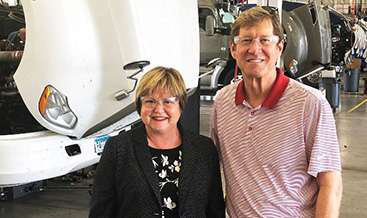 The last time Minimizer had a lost time accident, Steve Jobs was still the CEO of Apple.
The company announced this week it recently celebrated seven years without a lost time accident.
"Safety is a top priority. Seven years is a recognizable achievement in any manufacturing company and we are proud that we can ensure all of our employees go home safe to their families each day," says Minimizer Vice President of Operations Jim Richards.
A lost time accident occurs when an individual is not able to return to work or is assigned restricted duty on the day or shift following a work-related injury or illness. Minimizer officials say the goal is to keep the streak going, which they feel is achievable with the systems and people currently in place.
"This doesn't just happen. It takes a lot of work and dedication from each and every employee working together as a team to identify issues," says Gordon Eby, Minimizer technical manager. "We have a Safety Committee and provide safety training as most places do, but it's the employees of Minimizer that make the difference."
"The amazing part is we have achieved this while continuing to grow at a rapid pace," Richards says. "Those two things do not always go hand-in-hand. It is easier to be safe when the envelope of performance is not being pushed. We are pushing that envelope and maintaining an exemplary level of safety."