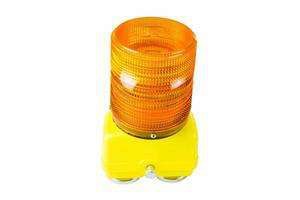 Larson Electronics LLC introduces a portable magnetic signal light that runs on two 6-volt DC batteries and has an amber lens.
According to Larson, this LED beacon lamp provides visual warning when power is unavailable and includes two 200-lb. magnets for portable mounting on flat metallic surfaces. The company says the strobing beacon is an ideal notification light for warehouse equipment, farming operations, vehicles and construction sites, providing operators with a signal light in times when power is unavailable.
Additionally, the magnetic beacon produces illumination that can be seen from an impressive mile away and flashes 65 times per minute. The beacon is amber in color and operated via a simple rocker switch, the company says.
"This LED beacon is the perfect device to add to your toolbox in case of an emergency lighting situation," says Rob Bresnahan, CEO of Larson Electronics LLC. "It weighs just two pounds and is less than a foot tall so it can be stored away easily. Whenever it's needed you just simply take it out, turn it on and mount it. No messing with wires or complicated mounting brackets."