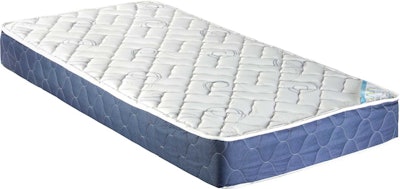 Lippert Components has introduced its latest somnum Sleeper Series mattresses for the heavy truck market.
The company says the new somnum Odyssey heavy-duty innerspring mattress is designed and built to maximize comfort for "big and tall" sleepers.
To provide a better night's rest for the heavier sleeper, Lippert says the Odyssey was designed with an enhanced high-profile 364-Series innerspring core and a 3 in. high-density foam topper. Together these features provide increased durability and stronger support. The springs in the 364-Series feature a higher coil count and a stronger gauge wire than standard innerspring mattresses. The somnum Odyssey also is topped with a premium soft and breathable quilted knit cover with an extra inch of comfort foam sewn into the quilting. It offers an insulation pad to promote a quiet night's sleep and features a very comfortable and supportive 9 in. height, the company says.
"We had so many fleet managers ask us if we had a mattress that could support drivers who are 300-pounds or more, that we realized there was a real void in the marketplace." says Mike Padrnos, business development manager at Lippert Components. "After hearing the stories of how these drivers were bottoming out and flattening the generic 4 in. and 5 in. foam mattresses out there, we knew we could develop and deliver a robust and supportive mattress for these drivers."
The company says the Odyssey is available in two sizes: 9 in. by 38 in. by 80 in., and 9 in. by 42 in. by 80 in. Both options carry a three-year warranty.
All somnum mattresses manufactured by Lippert Components are produced in an ISO certified facility and are made in America, the company says.