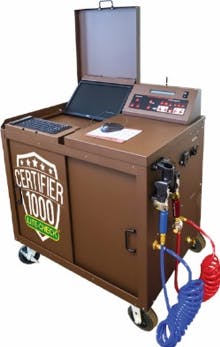 Lite-Check introduces its next generation heavy-duty vehicle brake timing tester, the Certifier 1000, which features new features, electronics, software, and hardware.
According to Lite-Check, the Certifier 1000 is user friendly with simplified set-up, operation, and wireless HUB technology. User customized programs remove operator guesswork and automatically collect all trailer operating system conditions including; electrical, air operation, ABS and 121 brake timing.
Additionally, with integrated photo and comment collection, producing a clean report for customers reduces warranty issues with less effort, Lite-Check says, and a digital report can be saved for production analysis.