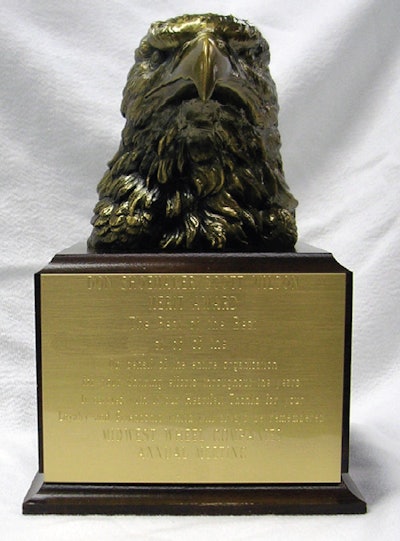 Midwest Wheel Companies has announced Don Reimondo and Shawn Pitts as recipients of its 25th Annual Don Shoemaker/Scott Wilson Sales Professional of the Year Award. Midwest Wheel President and CEO John Minor presented the award to Reimondo and Pitts during a ceremony at the Legacy Golf Club as a part of the company's 40th Annual Sales Meeting.
Reimondo has been a long-standing friend of Midwest Wheel Companies and is CEO and president of HDA Truck Pride, where he has been one of the most influential people to Midwest Wheel, according to an announcement. Reimondo continues to hold a great presence in the heavy-duty community with his dedication and invaluable knowledge.
Pitts is sales representative/partner at Considine Sales and Marketing, where he has been since 2007. Prior to joining Considine, he was Midwest Wheel's representative at DeeZee, where he demonstrated his wealth of knowledge and true professionalism. Pitts has been instrumental in the ongoing growth of the lines he represents with Considine and continues to be a long-standing friend of Midwest Wheel.
Judging for the annual award is conducted by Midwest Wheel's branch managers, sales professionals and product managers. The honor is awarded on the basis of meeting a number of criteria including: loyalty, adherence to policies, exemplary professional conduct, product and industry knowledge, professional selling skills and the consistent display of respect and courtesy throughout their business dealings.