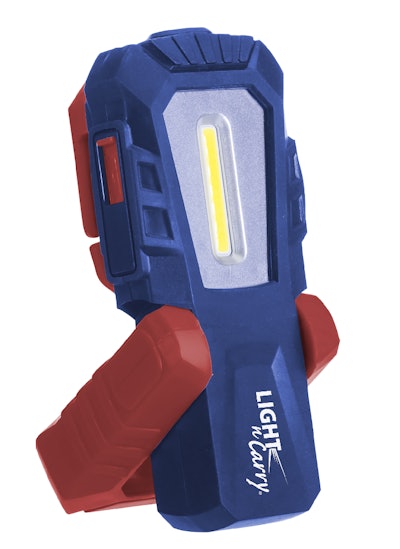 Clore Automotive releases its 200 Lumen COB LED Work Light, Model No. LNC1241, from Light-N-Carry.
Clore says the LNC1241 is an ideal tool for busy technicians, combining a compact size, steady lumen output, long run times, multiple lighting functions, a dust/water resistant housing and an easy-to-use micro-USB charging system.
Its 200 lumen max output work light function provides clean, pleasing illumination for general task lighting and pinpoint precision work. It also features a low work light function at 60 lumens for those applications where 200 lumen output is not necessary. Its work light function is powered by advanced COB LED technology for clear, bright viewing, elimination of hard edges, and delivery of cool, pleasing light. It also features a 60 lumen SMD focus beam function, Clore says.
Other features are said to include a four-hour run time in the high work light setting, a 180˚ swivel handle with magnet mounting as well as a hang hook to enable ideal placement for most applications.
The LNC1241 includes a wall charger with braided micro-USB charging cord and a Repair Service Coupon. Clore says the Repair Service Coupon enables a one-time, fixed fee repair of the unit after the warranty period, regardless of the reason for the failure (original coupon required at time of redemption).