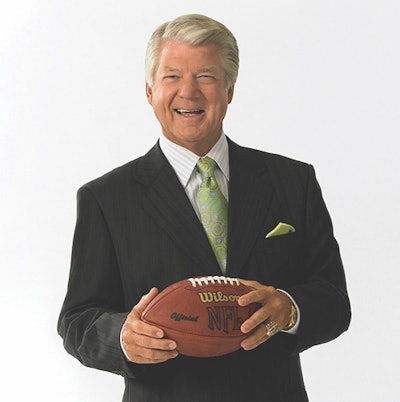 Former NFL and college football coach Jimmy Johnson has been named as the keynote speaker at the 2018 VIPAR Heavy Duty Annual Business Conference, taking place Oct. 14-19, 2018, in Marco Island, Fla.
Johnson, credited as the architect of the Dallas Cowboys' consecutive victories in Super Bowls XXVII and XXVIII, is a proven leader and motivator. His address during the conference will focus on the importance of building relationships in order to create a successful team, according to an announcement.
"Our experience on the G3 team, combined with what we have seen with our stockholders, has shown us that whether a team is taking care of customers or on the field, strong, positive relationships are crucial to success," says Jeff Paul, vice president of marketing, VIPAR Heavy Duty.
"Given Jimmy's experience working with some of the most successful athletes in the world, there is a parallel to be drawn to the business world regarding the value of individuals and structuring a winning team. We look forward to his keynote address," Paul adds.
Johnson's address will take place during lunch on Thursday, Oct. 18, at the conference host hotel, the JW Marriott Marco Island. All conference attendees and their guests are invited to attend.
This year's annual conference, "Accelerate: Investing in Tomorrow," emphasizes the organization's focus on opportunities and solutions to support the current and future growth of stockholder and supplier business.