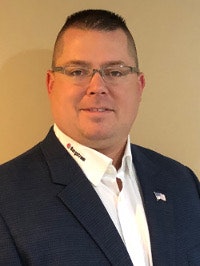 Bergstrom Inc. has promoted industry veteran Mike Aldred to national sales manager for its Bergstrom Standard Products (BSP) division. In his new role, will be responsible for further growing the BSP product line within OEM, commercial, military and specialty vehicle markets, according to an announcement.
"Mike has played an instrumental role in developing new products for some of our newer markets, including the NITE Hawk-S and Motorcoach No-Idle systems," says Larry Landreth, managing director, BSP and Bus AC Products. "He is a big part of our Bergstrom team and will continue to play a pivotal role in the years ahead."
Aldred, who has been with Bergstrom for four years, is an 18-year veteran of the automotive industry. He joined Bergstrom in 2014 and most recently held the role of business development director. As part of his new role, his focus will be on market analysis, strategy development, U.S. product design, standardization and marketing.
Bergstrom's BSP division officially launched in 2016 and has grown steadily ever since. The business unit provides HVAC solutions to OEM and aftermarket customers across the world who require a flexible and versatile approach to their HVAC challenges, the company says.
"The products offered by BSP are the ultimate in reliability and versatility," Aldred said. "The systems and parts are broad in range and give customers the ability to customize solutions based on their specific vehicle and environment. In short — they offer comfort and reliability that go anywhere."