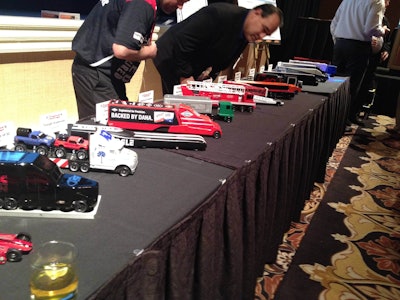 Registration closes Friday, Jan. 18, 2019, for this year's CVSN Pinewood Challenge, once again scheduled to be held during an all-industry reception at 5:30 p.m. Wednesday, Jan. 30 in the Mirage Grand Ballroom during Heavy Duty Aftermarket Week (HDAW).
The CVSN Pinewood Challenge mimics pine-car derby races commonly seen during Boy Scouts of America events. The truck and trailer event is open to all HDAW 2019 distributor and supplier company attendees. Awards for first, second, and third place will be given to Pinewood Challenge winners. There will also be Concours d'Elegance awards for the best looking and best designed trucks.
First place winners for the Pinewood Challenge race and the Concours d'Elegance will receive $250 Mastercard gift cards. Second and third place winners in both categories will also win Mastercard gift cards of $150 and $100, respectively. Audience participation drawings will happen throughout the derby.
Organizers says attendee prizes include:
Four $50 Mastercard gift cards from the HDAW organizers
A special Vegas golf bag from the Las Vegas Convention and Visitors Authority
Five official NASCAR memorabilia items courtesy of CVSN
Dorman Products won the HDAW 2018 Pinewood Challenge, and Phillips Industries was awarded the top prize for the best designed and best looking truck in the Concours d'Elegance category. All registered Pinewood Challenge race trucks will be on display for the duration of the HDAW 2019 Product Expo near the one-on-one information desk.
To participate in the Pinewood Challenge please CLICK HERE and complete the form. Then return it to Jeff Volpe at jvolpe@cvsn.org or fax it to (904) 636-9881.