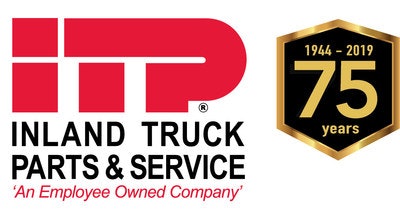 Inland Truck Parts and Service celebrating its 75-year anniversary this year.
Founded in Minneapolis as Industrial & Truck Parts in 1944, the company merged with Nebraska Parts Company and changed its name to Inland Truck Parts Company (ITP) a year later. In the decades since, the business has expanded through greenfield openings and acquisitions and now totals 40 locations in 13 states.
As an employee-owned company, the ITP leadership compliments every associate for the company's impressive growth history. With last year's acquisition of Drive Train Industries, the company now has more than 850 employees.
"We're extremely proud of everything ITP has been able to accomplish. It's really a testament to the can-do attitude of our employee owners and the fact that we're always willing to go the extra mile. I'm looking forward to watching this company grow in the years to come," says President Greg Klein.
"For three-quarters of a century, ITP has expanded our resources, refined our services and evolved to meet the needs of our customers," Klein adds. "Today, we're well positioned to be the go-to resource for any kind of truck parts, reman or shop service."