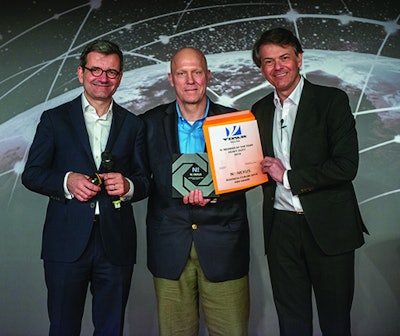 VIPAR Heavy Duty was named the Truck Member of the Year at the annual NEXUS Automotive International (N!) Business Forum held last week in Abu Dhabi, United Arab Emirates.
N! says VIPAR Heavy Duty was recognized for its high achievement, significant growth and leadership and was selected from a field of more than 40 N! heavy-duty members and member networks.
VIPAR Heavy Duty President and CEO Chris Baer accepted the award at the forum attended by more than 500 global aftermarket leaders and professionals. This was the first year the N! Business Forum featured an event dedicated to the global heavy-duty aftermarket.
"We appreciate being recognized amongst a field of strong heavy duty focused members from around the world," says Baer. "NEXUS Automotive International and our partnership with The Automotive Distribution Network and Automotive Parts Associates has proven to be a valuable resource to the VIPAR Heavy Duty Family of Companies. It has connected us to a highly innovative and progressive global commercial vehicle community while allowing us to focus on our North America strategies and markets as we serve our distributors, suppliers and collective end-user customers."
The N! Business Forum serves as a platform to update N! members and suppliers on services, support and new developments within the N! community. The group says attendees have the opportunity to conduct business, collaborate and network with other global aftermarket professionals through speed meetings, corporate strategy presentations and shared dialogue. This year's event marked the fifth anniversary of N!.
"The N! Heavy Duty community is already significant and is growing. Deciding who should be the first N! Truck Member of the Year was a difficult choice as we had many high achieving companies to choose from," says Gael Escribe, N! CEO. "But, in the end, VIPAR was the outstanding candidate, having enjoyed strong business growth over a five-year period. It was a well-deserved award and particularly pleasing as it was the first award made to an N! member in North America."
VIPAR Heavy Duty is a founding member of NEXUS North America, a part of the N! global community.