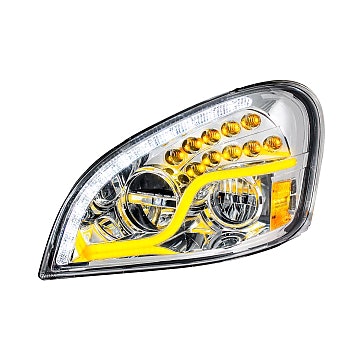 United Pacific Industries (UPI) announced this week it will introduce two new high-powered headlamps later this month.
UPI says its new lamps, part numbers 31082 and 35790, are engineered using DUAL Function technology to change the light bar colors from white to amber when the turn signal is on. The company adds lights produced by UPI are DOT and SAE approved, making them both functional and road legal.
"United Pacific Industries is a lighting leader for the commercial truck industry, and we strive for excellence in all of our product lines. In addition to the lights we are unveiling at MATS, we will also debut several new steering wheels, including UPI's exclusive chrome aluminum wheels and other unique designs. These are all products truck drivers like to use to upgrade their semis, and we're proud to be able to offer such a wide variety of options for them," says Chris Bischoff, national sales manager for United Pacific Industries.