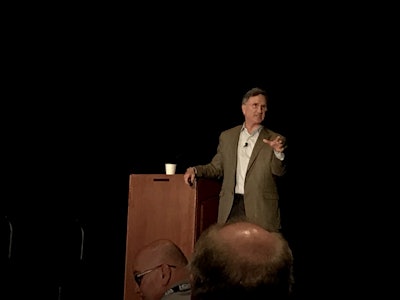 Few companies are more regarded for their corporate culture than Disney. For decades, the empire the mouse built has been viewed as the gold standard for superior customer service and customer experience in the entertainment industry.
As a former leader at Disney University and one of the people who helped The Walt Disney Company earn and maintain its reputation, Doug Lipp, author of "Disney University," says the tactics Disney uses to succeed are hardly unique or revolutionary. He says the business was built on processes, procedures and training just like any other operation.
As keynote speaker Thursday at the HDA Truck Pride Annual Membership Meeting in Orlando — in the shadow of one of Disney's greatest achievements — Lipp says the biggest differentiator between his former company and any other business isn't a perfect business plan or an impenetrable product advantage.
It's attitude.
"'The happiest place on earth' takes a lot of heavy lifting," he says.
Lipp describes Disney's corporate attitude with a single piece of paper. During his presentation Thursday, Lipp urged attendees to pick up blank sheets of paper found on their tables and envision what they could do with them. The papers represented a blank slate, he said, which most people view two ways. One common view is fear. Lipp says a blank slate has no guidance, no instruction, no plan. There's no framework to rely on.
But a blank slate also represents opportunity. Lipp says that's the opinion Walt Disney himself held and remains the dominant position in his company more than 50 years after his death.
A blank sheet of paper could be anything, and for those with the imagination to see it as such, the opportunities are endless, Lipp says. How Disney capitalizes on such opportunities is another differentiator, he adds. Disney's organizational structure is built in such a way that encourages engagement from all employees.
Lipp says that's imperative. Any company that's serious about growth and change needs "truth tellers," he says.
Lipp gives the example of Walt Disney personally sitting down with a 'cast member' who boarded guests on the Disneyland People Mover for his insight on the attraction before it was overhauled in the 1960s. Lipp says the associate told Disney the ceilings of the ride's gondolas were too low — tall guests were hitting their heads when entering and exiting — and when the ride was updated later that year, Disney made sure to include that expert analysis into the design of the new gondolas.
Lipp says another thing to remember regarding opportunities are "even monkeys fall from trees." He says it doesn't matter how successful we are, every person and business eventually makes mistakes. What matters is how those missteps are handled. At Disney, Lipp says employees are taught to not be discouraged when plans go awry.
"No matter how good we are we will make mistakes if we're pressing forward," he says.
Finally, business leaders have to "walk the park," Lipp says. That means getting out from behind one's desk or leaving the friendly confines of the corner office to see how business is actually being done in front of customers.
"What do people do when you're not in your store?" he asks.
Lipp also closed Thursday's presentation by mentioning corporate values. He says all too often companies create mission statements and value propositions that look good on paper but aren't prioritized in the field. He says employees should be so well trained on their employer's values that they follow them instinctively when interacting with customers.
"Don't put your values on a t-shirt and expect everyone to know what they mean," Lipp says.