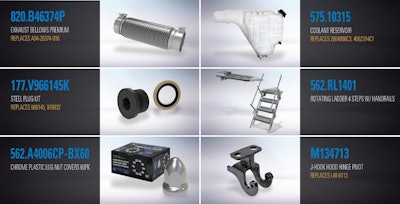 In response to distributor demand, Automann continues to add new products in key component categories, such as Air Systems, Body & Cabin, Chrome & Stainless Steel Accessories, Cooling, and Exhaust.
Covering all makes, Automann has over 30,000 products available. The company says its distributors can combine parts in all categories on orders with other Automann products, with no minimums.
More information about each product is below. Automann also says details, including rotatable 360° view, are available on Automann.com.
820.B46374P: Automann offers premium 3 layer exhausts bellows kits for Freightliner, Kenworth, Mack, Peterbilt, and Volvo applications. Each kit includes the required clamps and gaskets.
177.V966145K: 177.V966143K (M16x1.5) and 177.V9661545K (M22x1.5) steel plug kits from Automann, fit Volvo air systems and reservoirs.
562.A4006CP-BX60: is one of seven popular lug nut covers in 60 count color packaging that Automann has recently introduced.
575.10315: Fitting International ProStars with the MaxxForce 13 from 2012-14, this reservoir is one of over 40 coolant reservoirs that Automann offers.
562.RL1401 : Four-step rotating ladder is one of nine rotating and folding truck ladders available from Automann.
M134713 : This J-hook hood hinge pivot (M134713) for Kenworth T680, 2008-up, is one of the many items in Automann's body and cabin parts offering.