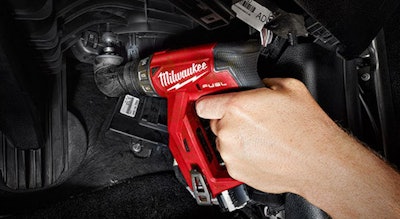 Milwaukee Tool is launching the M12 FUEL Installation Drill/Driver. The tool features four solutions (3/8-in. chuck, 1/4-in. hex, offset and right-angle) that can attach in 16 different positions to reach challenging locations and delivers up to 300 in.-lb. of max torque.
"Since the introduction of the M12 System in 2008, our goal has always remained the same: To deliver compact and durable solutions that can access the tightest, hardest-to-reach spaces, replacing hand tools and challenging manual applications. However, despite the incredible compact size of these tools, there were still certain, confined spaces even our leading solutions couldn't easily access," says Cole Conrad, vice president, product management.
"It was clear we needed to develop a solution that pushed the boundaries of versatility to provide this unrivaled access on our M12 System and it needed to have the performance and control necessary to accomplish these applications productively. Thus, the M12 FUEL Installation Drill/Driver was borne," Conrad says.
Milwaukee Tool says each of the four attachments on this tool can connect in 16 different positions for access at almost every angle:
Right-Angle Attachment — Provides efficient fastening or drilling at 90-degrees for access in tight spaces.
Offset Attachment — Provides access to tight corners and will not damage or mar finished materials when completing fastening applications.
All-Metal 3/8-in. Chuck and 1/4-in. Hex Attachments — Add to user productivity by delivering the versatility to perform most drilling and fastening applications.
The All-Metal 3/8-in. Chuck, 1/4-in. Hex and Offset Attachments can also all attach to the Right-Angle Attachment for additional versatility and access.
An inline grip at the back positions the users' hand higher on the tool, providing better access and control in tighter spaces. The top of the tool is flat, allowing it to be placed flush against surfaces for additional access when needed. These features combine with the tool's compact size and weight allowing users to maneuver for best access in hard-to-reach places. The front of the tool is also equipped with a magnetic bit holder that holds multiple bits, as well as a removable belt clip, the company says.
As with all M12 FUEL products, the new tool features three Milwaukee-exclusive innovations — the PowerState brushless motor, RedLithium battery pack and RedLink Plus intelligence hardware and software. The PowerState brushless motor delivers 1600 RPMs and 300 in.-lb., ensuring plenty of power for installation or service applications. For added utility, the tool, available in September 2019, comes with a compartmentalized contractor bag, the company says.