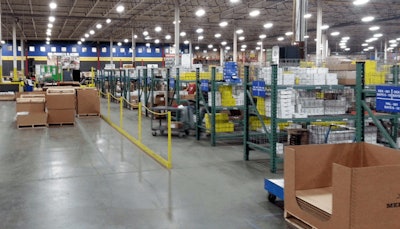 Meritor on Monday launched an initiative to get special order parts to customers faster.
Meritor says its new Uptime Services Group, which will formally launch Jan. 1, 2020, will accelerate the delivery of parts to customers in emergency situations and when vehicles require unscheduled repairs. The Uptime Services Group also will expedite the fulfillment of special orders for parts that are not in stock or in short supply, or not part of the regular inventory.
"Customer service has always been a priority for Meritor and the Uptime Services Group's focus on fulfilling special orders is a further commitment to that," says Christy Westrich, director of customer loyalty. "We know how important uptime is to our customers and we do everything within our power to expedite orders for the parts needed to get vehicles back on the road."
Meritor says the Uptime Services Group also will provide customers with a single point of contact for accurate delivery expectations on all special-order items, which the company says should help customers better operate their businesses.
The company also continues to review its entire portfolio of on- and off-highway axle and brake components, remanufactured carriers, clutches, transmissions, driveline and suspension components in order to ensure that it has the necessary parts in stock and available for swift delivery to customers.
The Uptime Services Group will be based at Meritor's Florence, Ky., parts distribution facility. The Florence facility, which is Meritor's largest aftermarket distribution operation, handles 23 product lines and more than 70,000 active parts numbers.