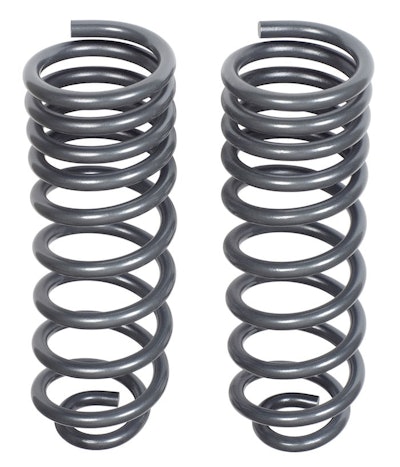 Dayton Parts made news at Heavy Duty Aftermarket Week (HDAW) Tuesday in Grapevine, Texas, announcing its recent acquisition of RMW Industries, a prominent design and manufacturing expert of wound coil spring technologies, and the introduction of its CargoMaxx Heavy Duty coil springs line.
According to Dayton Parts' President and CEO Paul Anderson, the investment in RMW Industries further enhances the company's undercarriage capabilities by combining its complete portfolio of light-, medium- and heavy-duty suspension components with RMW's 40 years of custom coil spring design and manufacturing expertise to deliver a comprehensive, single-source suspension solution.
As the largest manufacturer of leaf springs for the aftermarket in North America, Anderson says RMW's experience "designing and manufacturing coil springs enables Dayton Parts to offer our customers a complete suspension solution with quality products they can rely on."
"Joining Dayton Parts provides RMW access to a company with a strong heritage and diverse customer base to further grow our business," adds Ray Webber, president, RMW Industries. "We're pleased to be merging our team of skilled design engineers with Dayton Parts' talented team of commercial vehicle veterans."
Together, Anderson says the Dayton and RMW teams are "focused on supporting each unique customer and end-user requirement with solutions that are right for their specific application."
CargoMaxx HD was developed with that focus in mind.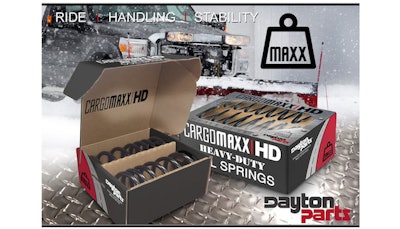 The new springs are available in two designs: the standard rate design is best for applications with a constant load, offering added roll stability and safety; the variable rate configuration is designed for applications with significant load changes providing a smooth transition for a comfortable empty ride, as well as added roll stability and safety when loaded.
Vice President of Marketing Walt Sherbourne says the new line will be available for order next week in the United States and the following week in Canada from the company's various distribution centers. The springs will be manufactured at Dayton Parts' facility in Canada.
Anderson and Sherbourne say the comprehensive offering covers a wide variety of work truck and end consumer applications including vehicles through model year 2020.
"Our goal was to create an upgrade option for fleets and vehicle operators looking to improve hauling capability and increase productivity while maintaining a smooth ride for the driver and passengers," says Sherbourne. "The CargoMaxx HD line provides an excellent load handling solution, and is the most comprehensive heavy-duty coil spring offering from a single source covering everything from older, less common vehicles all the way through today's current models."