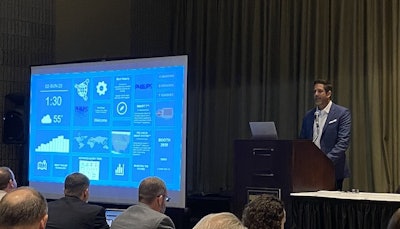 Last October at the National Trailer Dealers Association (NTDA) Convention in Florida, Bendix's Richard Beyer posited on the likely evolution of commercial trailers from "boxes on wheels" to highly advanced data-collection assets capable of providing trucking companies instantaneous information about their loads and equipment.
Beyer argued that as truck connectivity and telematics became mainstream across North America, many of today's commercial fleet operations would soon demand similar levels of connectivity from the assets rolling behind those trucks.
Beyer's thesis was validated Sunday at the ATA's Technology & Maintenance Council (TMC) Annual Meeting in Atlanta, as a multitude of commercial vehicle suppliers held press conferences to introduce groundbreaking trailer telematics and asset monitoring equipment developed to provide specifically the data Beyer's hypothetical fleets are likely to desire.
Phillips Connect Technologies, the three-year-old telematics and connectivity arm of the 92-year-old hardware company, expanded its suite of plug and play data-capturing solutions with the introduction of five new products, including SmartLOCK, a specialty intelligent gladhand that prevents the unauthorized coupling of a tractor with a trailer and the IntelliSense Harness System, an integrated 7-way smart harness that enables multiple sensors to connect to PCT gateways and eliminates the need for secondary harness to maximize a telematics solution.
WABCO followed, releasing its own connected and intelligent trailer solution that relies on four of its technologies — intelligent Anti-Lock Braking System (iABS), trailer Anti-Lock Braking System (ABS), Intelligent Trailer Program (ITP) and TrailerCAST — and an open software architecture to offers commercial fleets comprehensive real-time vehicle performance and maintenance information.
Other manufacturers, such as Truck-Lite, released similar programs at last year's TMC Annual Meeting, while companies in the tire pressure monitoring space (like PSI, SAF-Holland and Dana) have been unveiling smart TPMS solutions for a few years.
For fleets, the new technology is surely appreciated. But it's also likely quite daunting. With no industry standards or OEM factory preferred specs, today's fleets are being bombarded with technology options at rates never before seen in the trailer space. Fleet customers welcome choice but too much choice can become overwhelming; a burden for those responsible for the outfitting and purchasing of equipment.
But for truck dealers and aftermarket parts providers, this sudden propagation of options offers opportunity. By making oneself an expert on trailer telematics and data solutions, dealers and parts distributors alike can position themselves as consultative partners for their customers. Distributors can learn everything about every product and proactively inform their customers about the best solutions to meet their needs.
Phillips Connect Technologies CEO Rob Phillips said Sunday that PCT has made some headway with one trailer OEM toward the factory adoption of its IntelliSense harness, but said in regard to most trailer telematic devices, the OEM channel appears content at this point to give the customers "whatever they want."
All segments of the distribution channel can capitalize on that. Dealers can promote solutions that offer the most actionable data for the equipment they sell while the aftermarket can push solutions that are easily retrofittable and provide a quick return on investment. Both also can push solutions that interface with third-party diagnostic solutions and service management tools so as to further integrate themselves with their customers.
In an industry where relationships between fleets and their OEM partners have never been stronger, the dealer and aftermarket channel must work harder than ever to maintain its status as trusted, valuable partners. Trailer telematics isn't a sure thing to keep that relationship strong, but it helps. It provides an opportunity that didn't exist in the "boxes with wheels" days. And in the dealer and aftermarket channels, it's too good of an opportunity to waste.